📊 Daily Data Brief: July 27, 2020, 10:02 GMT (❗️July 22, 2020, 09:29 GMT)
Cumulative case: 16,442,487 (+1,325,579) cumulative cases
Active cases: 5,725,145 (+362,602) (this is the number of currently infected patients)
Total Deaths: 652,606 (+32,573)
Serious/Critical Cases: 66,266 (+2,613)
Recovered: 10,064,736 (+930,404)
Source: Worldometers
1) Seven-day rolling average of new deaths (ECDC data)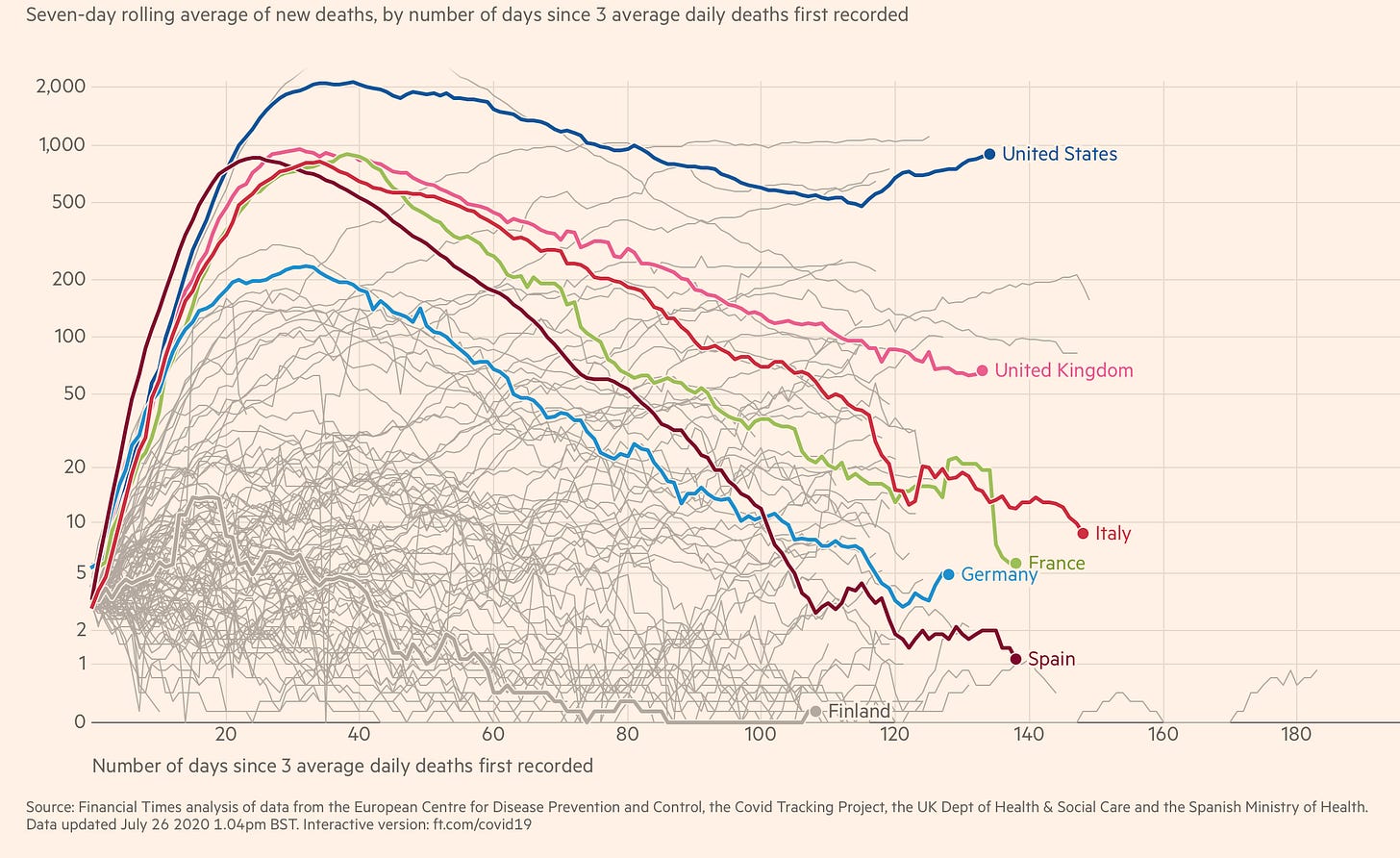 NEW❗️ As the UK added Spain (including now the Balearic and Canary islands) to its quarantine list and there are now talks of adding France and Germany, I have decided to add the below the newly confirmed case number per capita chart which also includes test positivity rate in the country line color.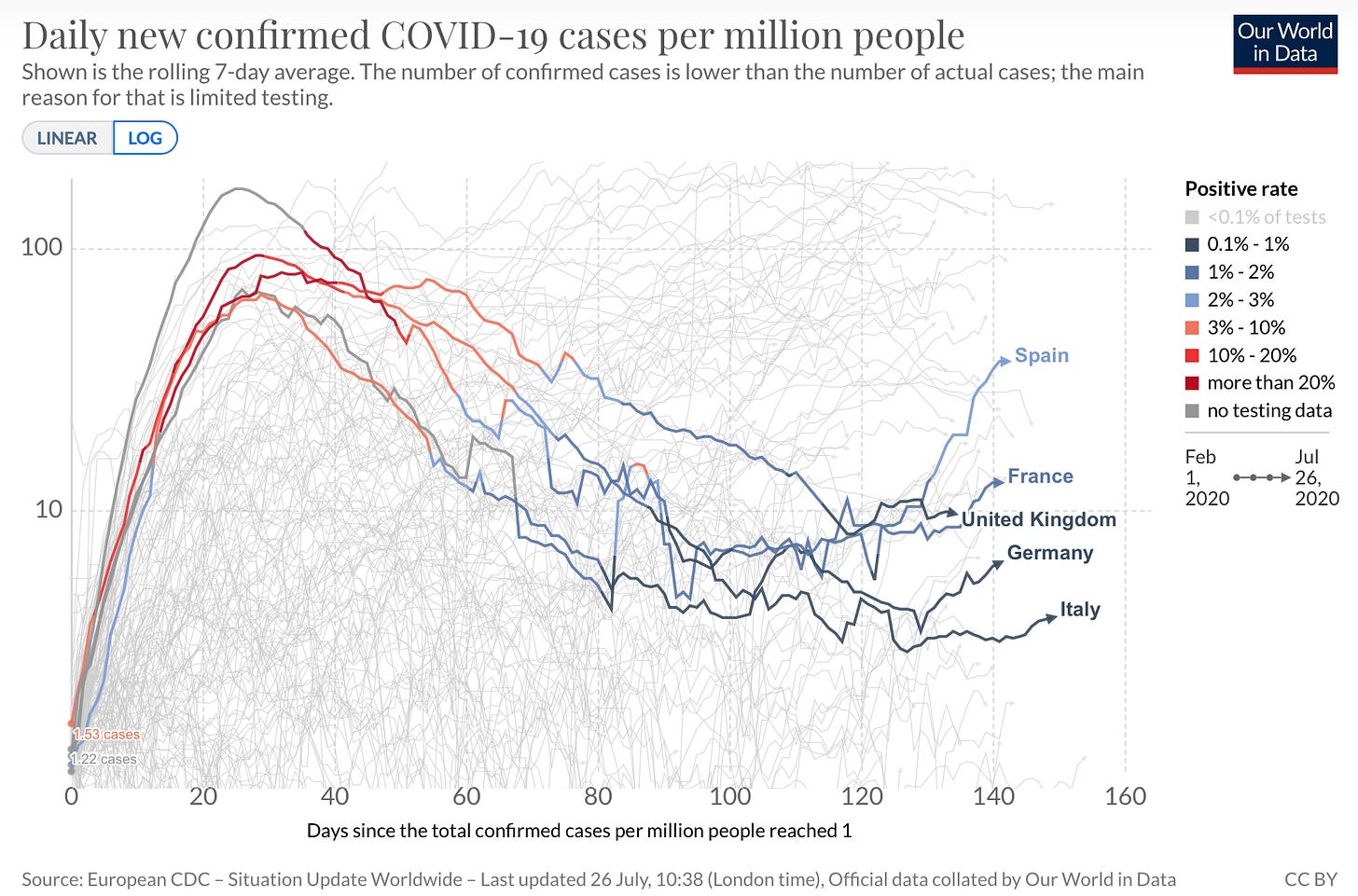 Showing a chart from the FT today highlighting the worrying situation in Brazil, Mexico, India and Russia and Iran (NEW❗️). Also the FT comparative charts now allow up to 6 countries.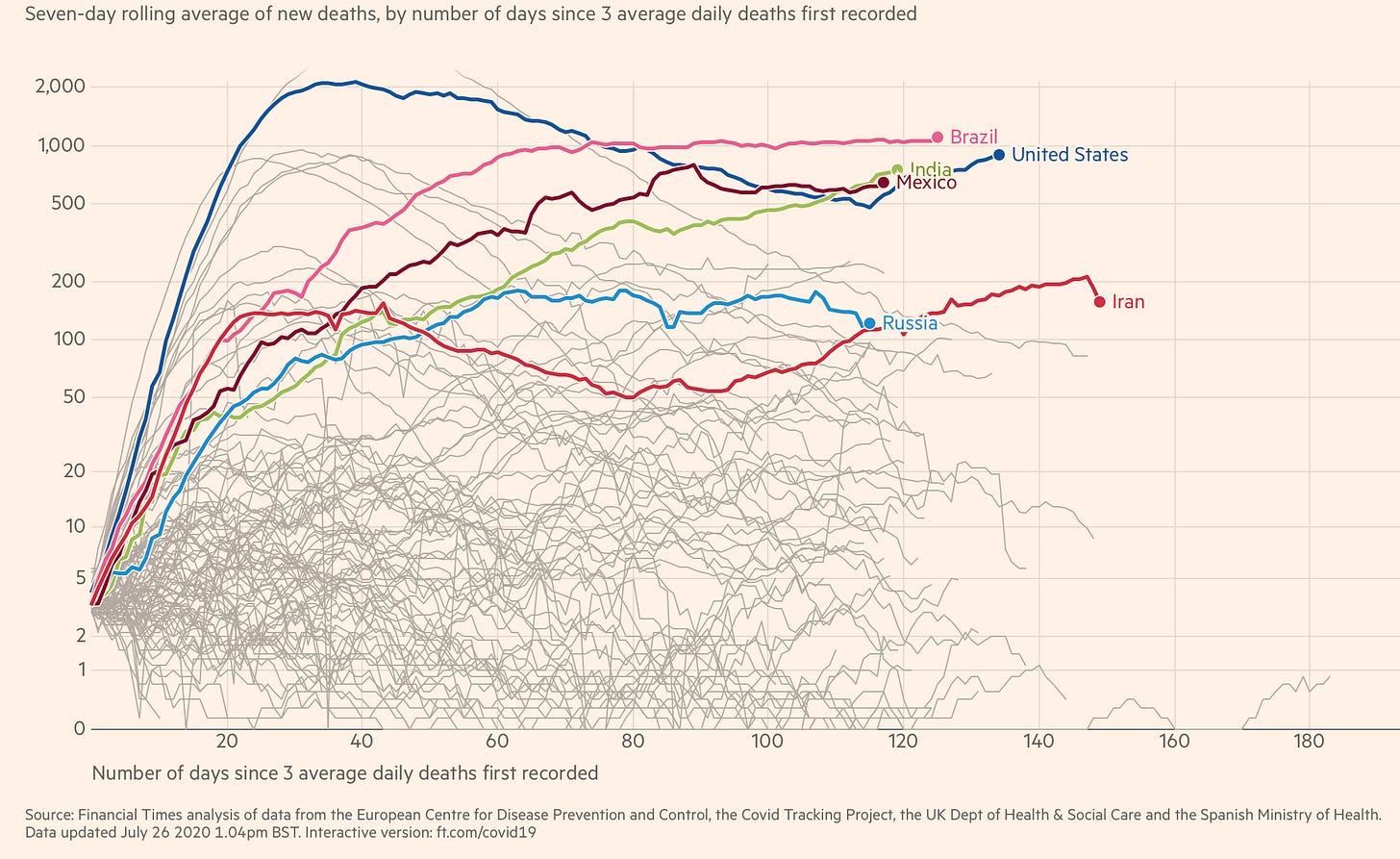 2) US situation ( two NEW❗️charts with more local granularity than Rt numbers and more relevant to school reopenings):
a) COVID risk level tracker from the Harvard Global Health Institute:
Four risk levels explained in this NPR article from July 1 with corresponding policy recommendation for each.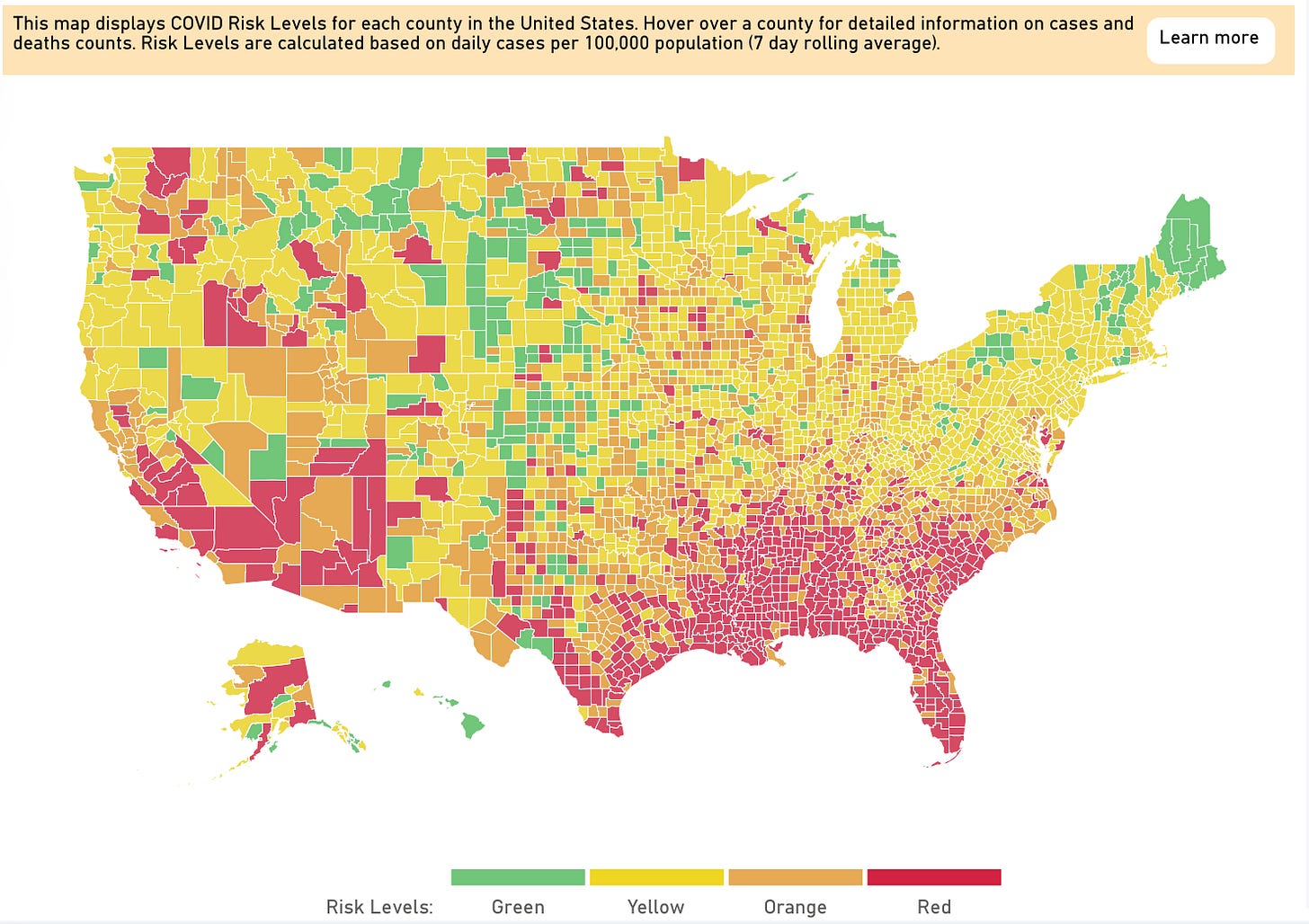 b) The COVID Tracking Project 2 Metrics 7-Day Average Curves (current hospitalisation & daily death curves)
Currently hospitalised has been chosen as a metric instead of daily cases as testing has significantly increased since the first surge last April in the NorthEast in the US.
We are currently witnessing same level of hospitalisation as then, but less than half the number of deaths.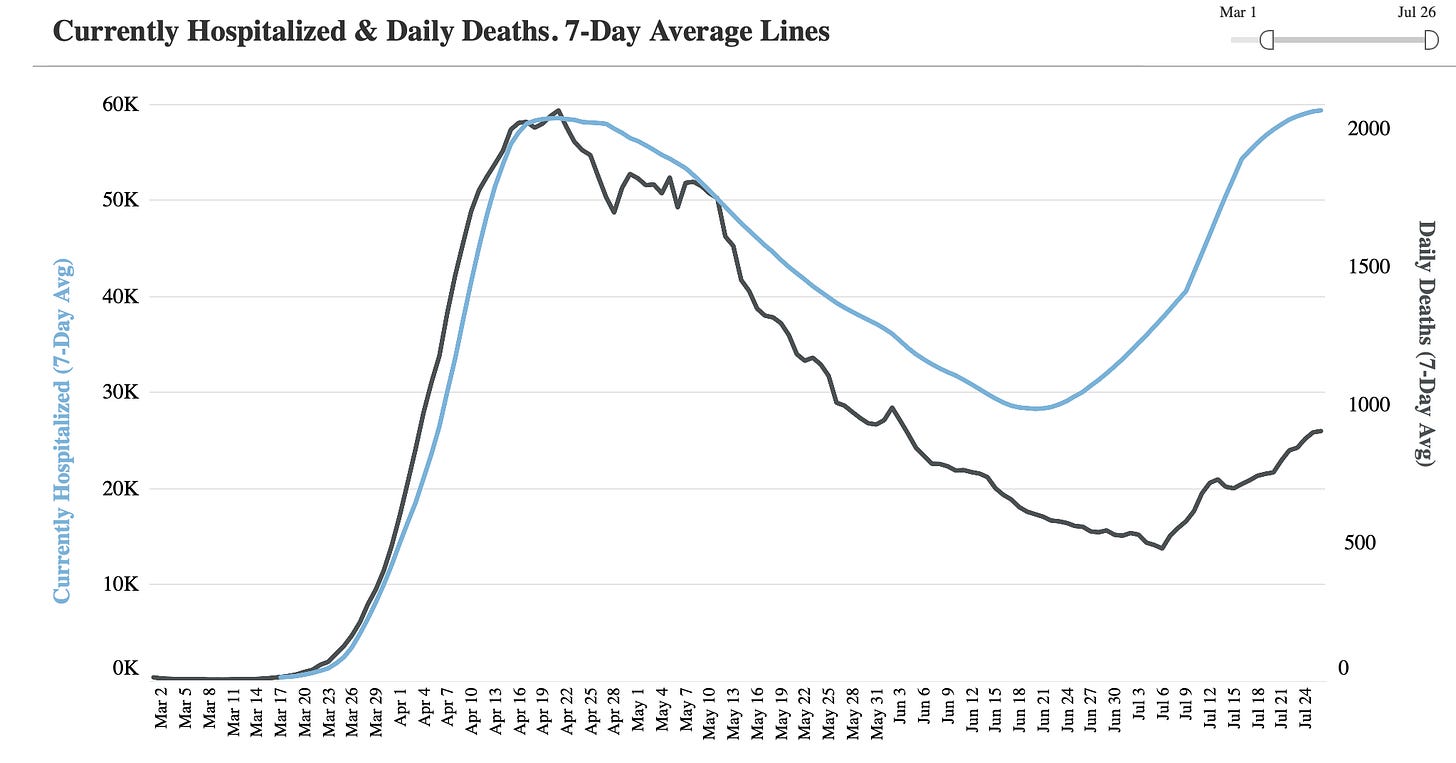 ---
We are finally seeing (particularly in the US) the emergence of 'collective action', a term used by Scott Gottlieb in his Face the Nation interview on Sunday to describe the actions of the public and corporations in America. This was needed to counter the poisonous politicisation of the pandemic in the US ahead of the November presidential election.
The tragic stories and the relentless communication by public health officials and scientists, are slowly bearing their fruits. And whilst we are in the middle of a second surge, and the fall with the circulation of both the flu and SARS-CoV-2 might prove extremely challenging, this emergence is cause for optimism.
And while we are seeing a number of stories and Twitter threads (as shared below) questioning the widespread belief that the first vaccines in late 2020 or early 2021 will return us to normal, it appears that their authors' aim is more for hedging ourselves rather than doubting that one or several vaccine candidate will come through and be successfully distributed.
A lot of reports have been recently written recommending school reopenings. This edition shares the one from the Royal Society in the UK and the CDC in the US. There is also a very good article by Professor Tara Smith on this subject.
A sensible Op-Ed by two former FDA commissioners on the need to create a diagnostic stockpiles in the US to better handle this current and future pandemics. Steve Case argues in the Washington Post to tweak the current federal support funding to prepare a better future rather than support dying businesses.
And finally, a beautifully narrated infographic about the tragedy of the pandemic in the Amazon in the New York Times.
---
🛑 A family tragedy: in the last edition of the Corona Daily, in discussing a family reunion which caused 40 infections, I wrote:
"We need more relatable stories like this one going forward to complement reporting on scientific advances."
There is a potentially more tragic story from a backyard barbecue which infected 14 people, where one family member died and one is in the ICU.
---
🦠 Video of the day 1: Scott Gottlieb (former FDA commissioner) on Sunday Face the Nation (Transcript here), in particular highlighting 'collective action' as being key to mitigating spread and a good way around the politics ahead of US election.
Apart from giving an update on the epidemic in the US, two key points in the interview. One is on Arizona being potentially a benchmark for other states in implementing selective mitigations measures which appear for now to have worked:
"I think Arizona in particular is a very instructive case because if they're able to start to bring down the epidemic in that state, largely what will have done it is some selective action by the governor. He did take some targeted mitigation steps like closing the bars, but more the collective action of individuals to withdraw some of their actions, stay home a little bit more and more adherence to masks."
See below the latest COVID Tracking project charts on Arizona: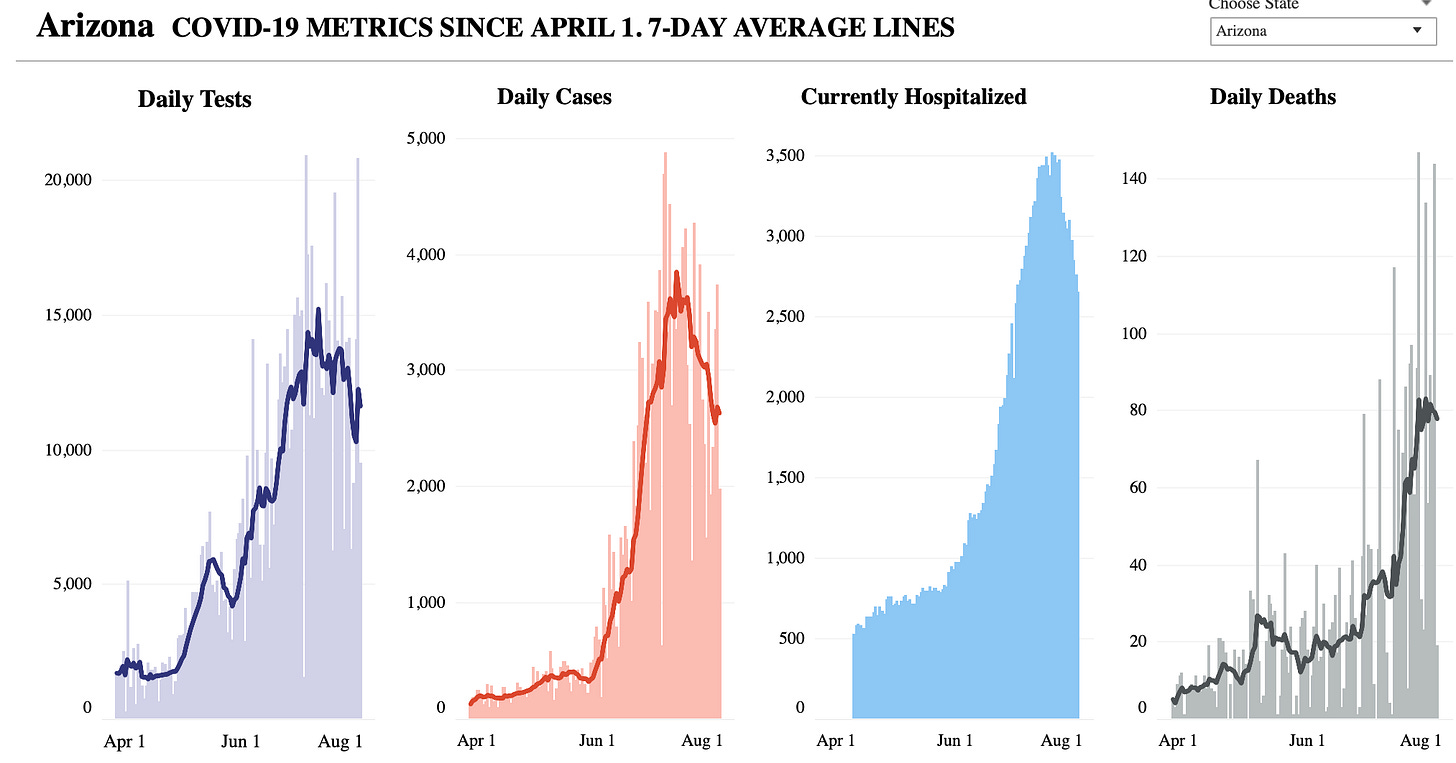 Talking about McDonalds and other retailers following Starbuck and Walmart in requiring customer to wear masks:
"I think so, and I think it's a very good way around the politics. If enough businesses mandate masks in their venues, you effectively have a national mask mandate. You know, Delta Airlines announced this week that if you don't wear masks on their planes, they may ban you from flying on their planes for life. I think you're going to see more collective action on the parts of businesses."
As mentioned in the opening this is cause for optimism.
🤦‍♂️ Video of the day 2: "Where are the gendarmes of St Tropez?"
There is a cult 1964 French comedy film "The troops of St Tropez?" which highlights the difficulty of policing the extravagant behaviour of some in this well-known South of France seaside village. The video link of a beach party last week in St Tropez sadly perpetuates the reputation. (Link)
---
⚠️💉 Spotlight of the day: "What if we do not get a COVID-19 vaccine in 2021?"
The expectation now is that we will get a vaccine in late 2020-2021, but a few experts have rightly discussed the scenario in which we do not get one, and what needs to be done now in case a successful vaccine does not materialise.
One of the first one to have discussed this in a thread is CT Bergstrom (Professor of Biology at University of Washington):
Whilst Bergstrom is optimistic (with one caveat which Helen Branswell also covers in an article below on the first COVID-19 vaccines being potentially reactogenic as seen in current trials), he warns against planning for only the best outcome (he references a good article on this topic as well "What's the backup plan if there's no COVID-19 vaccine?"):
Bergstrom wants to see at least three things happen now in case of these less optimistic scenarios:
Massive investment in testing technology

'Moonshot investment' in therapeutics

Restarting elective healthcare procedure and health screening outside COVID-19
The cost of not doing what Bergstrom is advocating in case the vaccine candidates do not live up to current expectations dwarfs the investment needed to carry his recommendations.
💉 Sarah Zhang writes "A Vaccine Reality Check" for The Atlantic. (Link)
This is an in-depth look at what could go wrong with the current vaccines candidates, even post emergency approval by the Food and Drug Administration.
A very informative and MUST READ.
💉 Helen Branswell writes "Covid-19 vaccines may cause mild side effects, experts say, stressing need for education, not alarm" for STAT news. (Link)
Branswell looks as some of the data which came out of Phase 1/2 trials of leading vaccine candidates and the need to educate the public now about these potential side effects. Not doing so now could hinder scale adoption when and if regulatory approval is granted.
As Noel Brewer (professor of health behaviour at the University of North Carolina and also member of World Health Organization subcommittee on Covid-19 vaccine safety) is quoted in the article:
"People are paying attention to these issues, arguing that members of public has a greater capacity to understand than they are generally given credit for."
As has been blatant since the beginning of the pandemic, the public's abilities have been been underestimated. Some of the collective actions we are seeing, and which Scott Gottlieb highlighted in his Face the Nation interview, come from the public's ability to learn and relate to the tragedy around them.
Public health officials might lament the time, and even more sadly the loss of life it has taken to get to this level of understanding and compliance, but there are reasons to be optimistic going forward. People do care about their health and that of their loved ones.
---
🏫 School re-openings:
A number of very good resources and article on this difficult issue.
🇬🇧 The Royal Society DELVE (Data Evaluation and Learning for Viral Epidemics) initiative has published "Balancing the Risks of Pupils Returning to Schools" (Link)
"The evidence on the infection risk from school opening is limited, though to date it suggests that the risk from opening schools, relative to restarting many other activities, is not as high. The experience of most other countries which have already taken this step supports this. By contrast, the evidence on the negative impact of closing schools is considerable and robust."
It is a very thorough and well structure document looking in details at all the facets to address this important policy and societal issue:
Risks from infection

Risks from loss of skills and increases in inequality

Risks to child and parent mental health

Risks from parents not being able to return to work.
The recommendation sets out: what needs to be done for schools to safely reopen, when school closures should be considered (starting locally), the need to collect data, and finally the need for clear communication.
🇺🇸 The CDC (Center for Disease Control and Prevention) has set out a similar report with a clear recommendation in its title "The Importance of Reopening America's Schools this Fall" (Link)
Its recommendation is very similar to that of the Royal Society:
"The best available evidence from countries that have opened schools indicates that COVID-19 poses low risks to school-aged children, at least in areas with low community transmission, and suggests that children are unlikely to be major drivers of the spread of the virus. Reopening schools creates opportunity to invest in the education, well-being, and future of one of America's greatest assets—our children—while taking every precaution to protect students, teachers, staff and all their families."
Some have rightly pointed out the regrettable omission of under what circumstances should schools be closed as the DELVE report did, thereby leaving room for deadly politicisation of the issue.
🇺🇸 Tara Smith (Professor of epidemiology at the Kent State University College of Public Health) writes "Is There Any Safe Way to Reopen Schools This Fall?" for Self (Link)
Smith outlines four at minima recommendations to attempt to safely reopen school at the end of her article:
1. We need flexibility

2. We need community buy-in for mitigation methods

3. We need funding

4. We need widespread and rapid testing and contact tracing.
---
🧪 Scott Gottlieb and Mark McClellan (two former FDA commissioners) write "Covid Shows the Need for a Diagnostic Stockpile" for the Wall Street Journal. (Link)
Since the beginning of the pandemic, testing has been the achilles heel of the United States and other countries around the world. The authors argue for the need to create a national stockpile and for the federal government to fund the maintenance of such diagnostic capacity urgently and for future pandemics. This is a matter of national security and one which has precedents:
"One example is Neupogen, a drug used to reconstitute white blood cells in chemotherapy patients. In a dirty bomb attack, it can treat people whose bone marrow has been poisoned by radiation. The drug's manufacturer, Amgen, built a network of hardened domestic manufacturing sites. Amgen's contracts with the feds bake in a margin to support guarantees that supply will always be available."
Well argued and convincing.
♻️ Steve Case (co-founder of America Online) writes "There's no going back to the pre-pandemic economy. Congress should respond accordingly" for the Washington Post. (Link)
Case argues for three changes in the federal relief program to built a better and more sustainable future (including reducing inequalities):
"There's no going back to the pre-pandemic U.S. economy. Too much has changed; too many new needs exist. This is a rare opportunity to break with the past and create a better future. Congress should grab it."
🇧🇷 "The Amazon, Giver of Life, Unleashes the Pandemic" the tragic story of how the Amazon has been the worst hit region in Brazil, the second hardest hit country in the world. Beautifully narrated by Julie Turkewitz and Manuela Andreoni, with photographs by Tyler Hicks and graphics by Jeremy White. (Link)
---
🎙 "The Politics of Pandemics" a conversation with Jeffry Frieden (Professor of Government at Harvard University and brother of former CDC Director Tom Frieden) (Link) (21 minutes)
"Beyond the obvious effects on health and the economy, COVID-19 has also had an effect on politics; and, in turn, politics has affected the spread of the disease and its economic consequences. In this episode of EconoFact Chats, Michael Klein and Jeffry Frieden at Harvard discuss the links between politics and economics in the COVID-19 era."
Looking at the need of agencies such as the CDC to operate when short term politicians do not have incentive to look at long term preparedness or unpopular policies. On the importance of trust in government to get compliance from the public in needed measures to control a pandemic. And finally on the need for global cooperation in global public health.