📊 Daily Data Brief: July 22, 2020, 09:29 GMT (❗️July 15, 2020, 01:51 GMT)
Cumulative case: 15,116,908 (+1,843,864) cumulative cases
Active cases: 5,362,543 (+411,987) (this is the number of currently infected patients)
Total Deaths: 620,033 (+43,543)
Serious/Critical Cases: 63,653 (+4,375)
Recovered: 9,134,332 (+1,388,334)
Source: Worldometers
1) Seven-day rolling average of new deaths (ECDC data)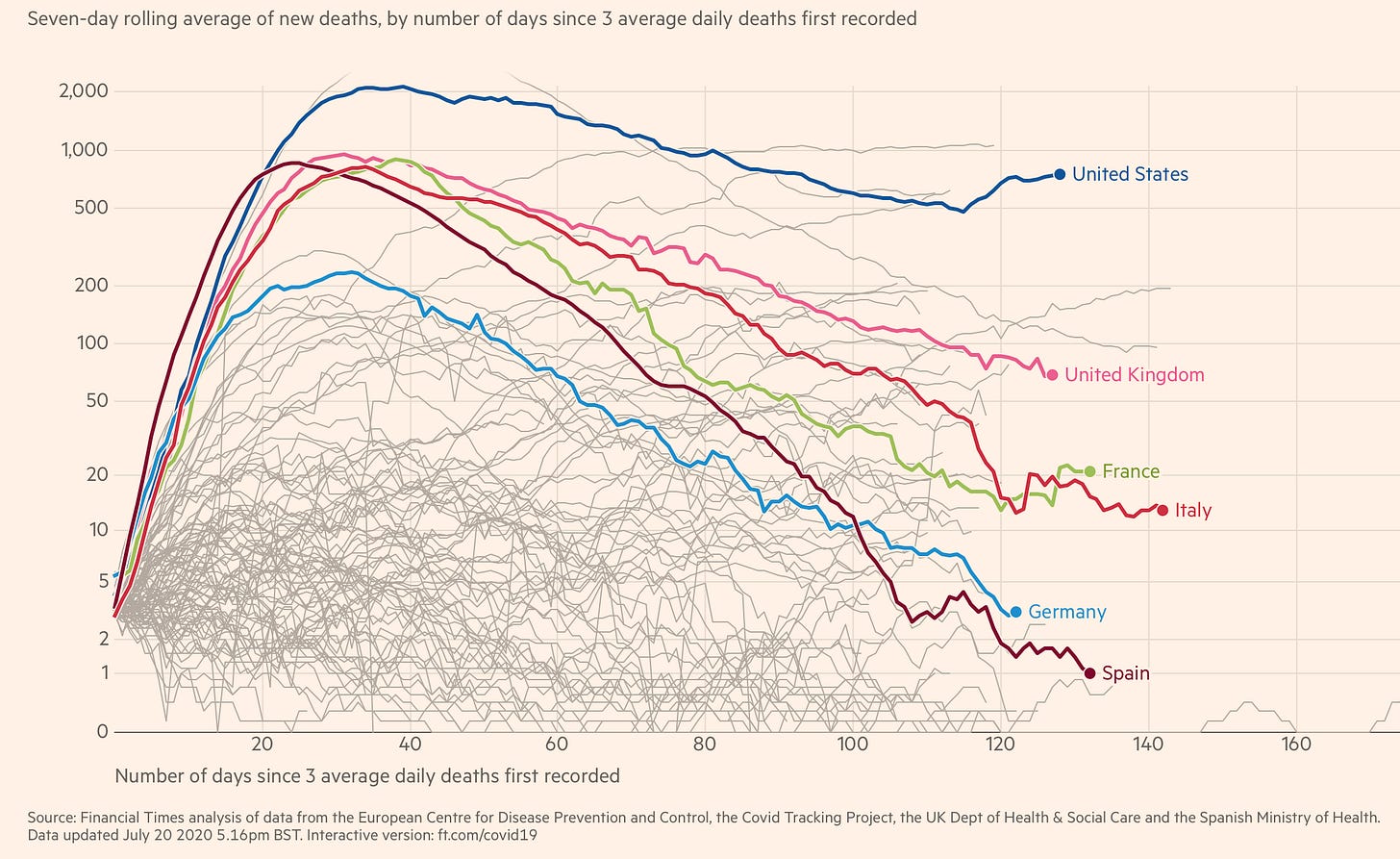 Showing a chart from the FT today highlighting the worrying situation in Brazil, Mexico, India and Russia and Iran (NEW❗️). Also the FT comparative charts now allow up to 6 countries.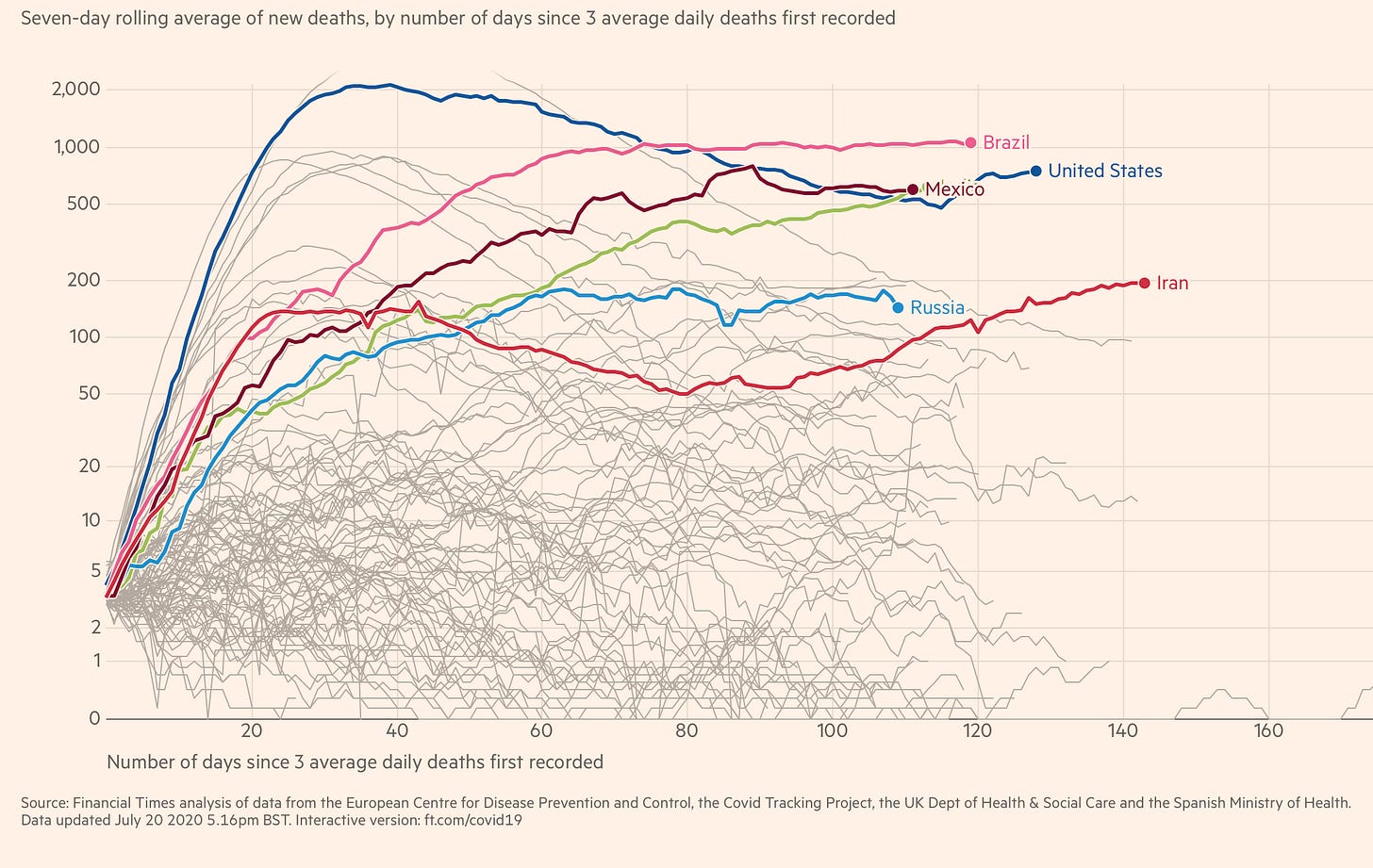 2) Rt estimate per State (US) (NEW❗️changed to RT.live which offers better visualisation of States above whose Rt>1).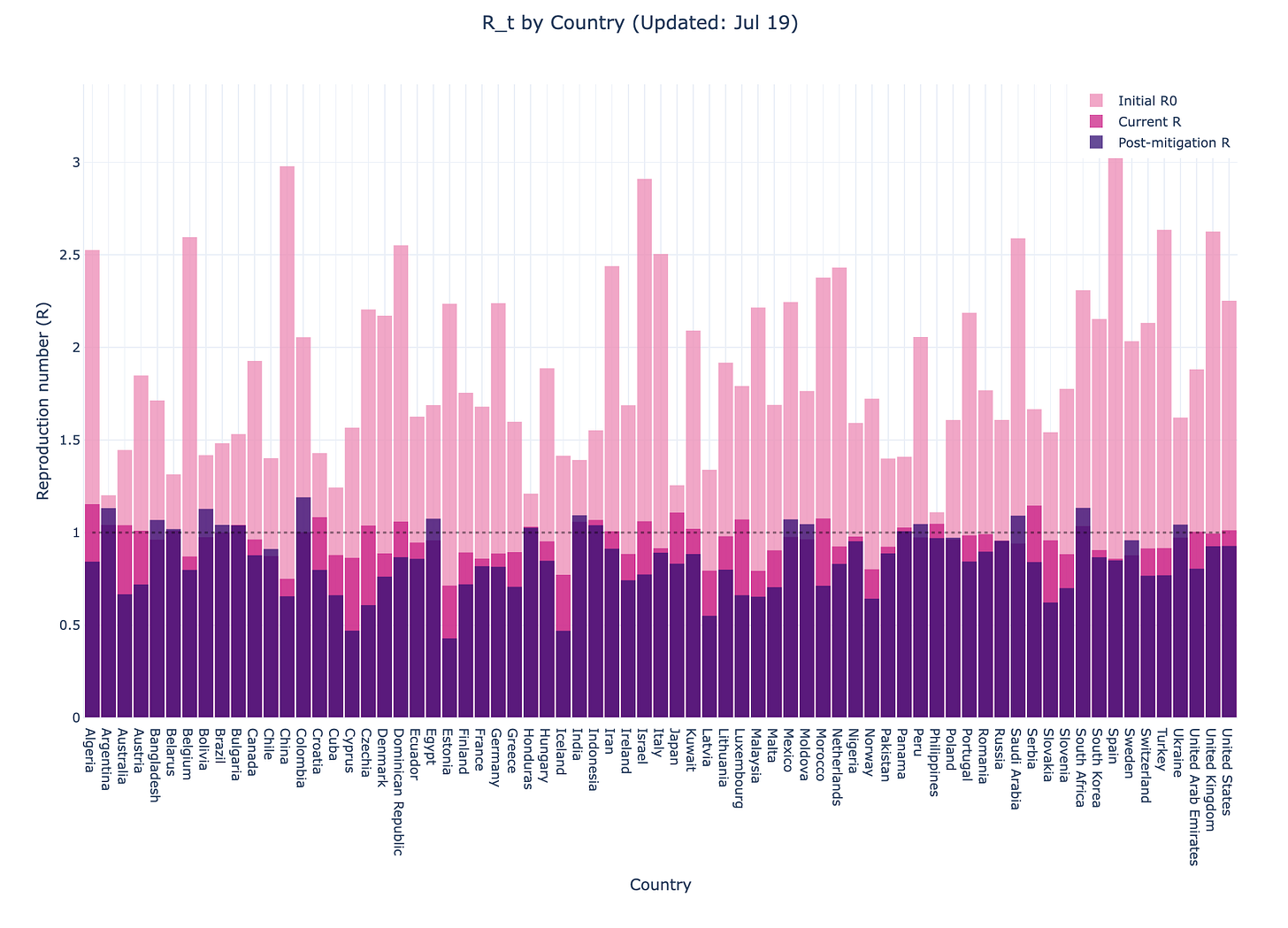 ---
The Oxford vaccine received a lot of coverage, and the profile of Sarah Gilbert in Bloomberg is a treat and the article of the day. The paper on Phase 1/2 published in the Lancet is also covered there.
The Twitter thread of the day (and the connected pre-print) is about the potential waning of neutralising antibodies to SARS-CoV-2 in infected individuals. An issue which got a lot of sensational (and therefore unhelpful) headlines in the press. There is also an excellent podcast of the author of the thread on why he is optimistic about the vaccine.
The Tweet of the day is about a cluster which originated in a family gathering in North Carolina. We need more relatable stories like this one to change behaviour of citizen at scale. There is also a study on 'framing' in an LSE blog and how it affects people's behaviour related to this.
The image of the day shows potentially good news on fatality curve in the US flattening.
Two interviews of Fauci (video and podcast of the day) on the need to reset the US response and his masterful use of the word 'bizarre' to qualify some of the public criticism he has been subject to by the White House. It shows why Fauci has survived six administrations. There is also an article about public health experts being wrong (which cites the example of Fauci and his recommendation early on about the utility of masks) and whether that is cause of distrust or increased trust in them.
An article on structural racism and public health inequities. And finally, another controversial decision being covered from HHS deciding to bypass the CDC for gathering and reporting on the US COVID-19 data.
---
💉 Articles of the day: Vernon Silver and James Paton write "Covid Vaccine Front-Runner Is Months Ahead of Her Competition" for Bloomberg (Link).
It is a great article featuring the University of Oxford vaccine candidate and the woman, Sarah Gilbert, leading the team behind it.
It preceded the release on Monday of the encouraging Lancet journal paper on the Phase I/II trial of the vaccine ("Safety and immunogenicity of the ChAdOx1 nCoV-19 vaccine against SARS-CoV-2: a preliminary report of a phase 1/2, single-blind, randomised controlled trial"). The reporting in STATnews on the results of the Oxford and the CanSino vaccine candidates provides a good summary of the published trial results ("Studies provide glimpse at efficacy of Covid-19 vaccines from Oxford-AstraZeneca and CanSino").
There are two quotes in the Bloomberg article which stand out. The first one is testament to how Gilbert lab research over the years has been propelled from relative shadow and the struggle to secure funding to the glaring limelight now:
"When Gilbert testified before a parliamentary committee in early July, one member compared her effort to going into a shed and coming out with a jet engine"
The other part relates to communicating more clearly and openly about what to expect with the first vaccine candidates with the public:
"It doesn't need to cure you. … We want a vaccine to stop people from going to hospital and dying. If you can do that, I think people will be pretty happy"
Given the focus of the public, and the potential politicisation of the first emergency use approval of a vaccine around the US November presidential election, it is critical for the longer term containment of COVID-19 that the public understands what to expect. One could imagine a President or Prime Minister announcing the 'end of the pandemic' (a kind of "mission accomplished" message) when authorisation is granted. When we see how damaging the 'reopening' messaging has been (as well as not respecting the gradual guidelines laid out by public agencies on how to safely reopen) in a number of states and countries, leading to a number of citizens letting their guard down and the ensuing/inevitable case surge, it is important to avoid a similar resurgence in the fall in the middle of the flu season when a (or several) vaccine(s) could get emergency authorisation.
Turning to the published paper on the trial as as covered in the STAT news article:
"They show a relatively safe vaccine — though side effects were greater than for a meningitis vaccine, to which it was compared — that engages the immune system to fight the virus."
Given the recent papers on how long lasting antibodies are (more on this later), and the role of T-Cells in immunity (here is a short explainer: "Coronavirus: B cells and T cells explained"), the Oxford group also looked at T-cell response in participants receiving the vaccine:
The vaccine also produced a response in T cells, a type of white blood cell that attacks cells infected with viruses, according to the paper. In a statement, Andrew Pollard of the University of Oxford, the study's lead author, said that the vaccine is intended to induce both types of responses. "We hope this means the immune system will remember the virus, so that our vaccine will protect people for an extended period"
The results are a 'so far, so good' and Astra Zeneca also communicated alongside the paper on vaccine production and availability. The vaccine is now entering large scale Phase 3 trials. Encouraging, and kudos to all for having got this far so quickly. There is however a reason why there are 3 phases in trials.
---
🦠 Twitter thread of the day: "Are antibodies to SARS-CoV-2 going down?" an excellent Tweetorial by Florian Krammer ((Professor of Vaccinology at the Icahn School of Medicine at Mount Sinai) summarising his recent pre-print ("SARS-CoV-2 infection induces robust, neutralizing antibody responses that are stable for at least three months") on an issue which got sensational coverage in the press following a pre-print paper from King's College). MUST READ (Link)
The first tweet lays out why Krammer felt compelled to write this rather long thread (33 Tweets):
Both his paper and the Twitter thread are more nuanced than the communication around the King's pre-print on the same issue and is a great piece of science communication.
Finally, there are a lot of important questions which remain with implications for COVID-19 vaccines and policy in general. Expect more from his lab (and others) in the future:
Krammer will also do a similar Tweetorial on T-Cells which will likely be covered by the Corona Daily.
---
👵 Tweet of the day: "A family gathering infects 40 people including grand-parents"
This is a story how a family gathering let to 40 infections including vulnerable grandparent. We need more relatable stories like this one going forward to complement reporting on scientific advances.
Catawba County Public Health Director Jennifer McCracken said:
"Folks did not wear masks or observe physical distancing at this gathering, and 14 people who attended subsequently tested positive for COVID-19"
McCracken went on to say:
"It's not hard to prevent the spread COVID-19. What's hard is having to call 20, 30, 40 people a day and tell them that not only are they sick with an untreatable illness, but they are also required to isolate themselves from others, including their loved ones, and stay home from work for two weeks or until they recover."
---
🇺🇸 Image of the day: "Fatality curve flatter and hospitalisation near peak"
Eric Topol (Founder and Director of the Scripps Research Translational Institute) uses the new tool ("2 Metrics 7-Day Average Curves") provided by the COVID19 Tracking Project to make your own chart plotting 7-day average of death and hospitalisation for the US.
The fatality curve appears to flatten which is 'good to see' for now until we see this trend continuing and the reasons behind it if confirmed.
---
🇺🇸 Video of the day: "We're dealing with a serious problem that I believe we can handle", PBS NewsHour's Judy Woodruff interviewed Dr. Anthony Fauci.
A very realistic interview with Dr Fauci on what needs to be done to get COVID-19 under control in the US, masterfully depoliticising the pandemic, talking about school reopening, preparing well for the flu season and cautious optimism about the vaccine.
The three things Fauci highlighted in the interview as critical to get the epidemic back under control:
"Universal wearing of masks

Stay away from crowds

Close the bars, you appeal to the people in the local areas close those bars"
A very worthwhile interview to watch. (24 min)
---
🧪 Shannon Palus writes "How Public Health Experts Feel About Being Wrong" in Slate. Plus argues that the fact that public health officials are wrong is more a reason to trust them than distrust them. (Link)
📈 Scott Gottlieb pens "Behind the HHS-CDC Disagreement" for the Wall Street Journal. The Gottlieb article covers a move by U.S. Department of Health and Human Services (HHS) to have hospitals COVID-19 data directly sent to them and thereby bypassing the CDC:
HHS bypassed the Centers for Disease Control and Prevention, the lead agency for collecting, analyzing and sharing data on emerging infectious threats. The move reflected frustration with the CDC's capacity to analyze and share information, which relies on systems so antiquated that some hospitals had to fax in results.
On this point Gottlieb feels it would have been better to improve on the CDC shortcomings in this area rather than bypass it. The Association of Professionals for Infection Control and Epidemiology (APIC) have denounced the move and sent a letter to Vice President Mike Pence:
"APIC is very concerned about the recent announcement that hospitals will no longer be reporting COVID-19 data to CDC's National Healthcare Safety Network (NHSN) and instead will be required to send data to the Department of Health and Human Services on a daily basis. This overnight shift creates a lack of trust in the data at a time when we need that trust more than ever."
Gottlieb also covers other current and critical issues in his opinion piece non testing delays, need to boost capacity for recombinant antibodies and the need to bring manufacturing capacity back in the US longer term. (Link)
🛑 Lila Thulin writes "What 'Racism Is a Public Health Issue' Means" for the Smithsnian magazine. This is a thoughtful interview of Epidemiologist Sharrelle Barber on how structural racism not only negatively affects minorities in the US but also unhelpfully frames public messaging and response to the resulting inequity issue. (Link)
📃 Kiera Butler writes "Teaching People How to Spot Bad Science Is a Public Health Tool" in Mother Jones. This is an edited interview for Laurel Bristow (infectious disease researcher studying respiratory pathogens at Emory University's Vaccine Center).
Bristow made her instagram account public and went from under 700 mainly friends followers to 105,000 followers making Instatutorial videos on COVID-19. She discusses her journey, how elitists science had become, how the public has taken a deeper interest and how to improve science communication going forward. (Link)
📣 Laura Kudrna and Kelly Ann Schmidtke write "Changing the message to change the response: psychological framing effects during COVID-19" for the LSE Blog. (Link)
The authors look to test the findings of a previous 1981 study run by Nobel laureate Daniel Kahneman and Amos Tversky on public messaging to engage people on different policy options to either 'save lives' or 'prevent deaths'. Participants preferred to 'prevent deaths'.
The authors did a similarly designed study on social/physical distancing during COVID-19 and the Kahneman/Tversky findings held.
They then tried to go further and test whether there was a similar outcome looking at other behaviour options:
"Participants were asked whether they would be willing to have a friend over (yes/no), attend a crowded work meeting (yes/no), and download a contact tracing app (yes/no)."
The results were inconclusive in showing a personal preference between the two framings, when the researchers expected that 'preventing deaths' would be markedly preferred when relationships (work/personal) might be put at risk.
Interestingly, no one wanted to have a friend over whilst some would attend work meetings (see graph below):
More studies need to be done on this framing to make sure that as the US potentially reset its response or other parts of the world face a second surge, that we frame the best message to save lives/prevent deaths.
---
🎙 Podcasts of the day:
🇺🇸 "Anthony Fauci on The Battle Against COVID 19" with Ed Yong for Atlantic Pulse. A stellar journalist with Dr Fauci who the Americans are lucky too have in such a prominent position now.
This is an interview where Fauci iterates some of the points made in his interview on PBS above. The part where Fauci deals with questioning about his relationship with the White House and President Trump is a class act (the link below starts at this point of the interview). Fauci has survived six administrations and could definitely survive seven if he needed to.
"That is a bit bizarre and I have to tell you I think if I sit here and just shrug my shoulders… and say well you know it's that's life in the fast lane. You know it is a bit bizarre. I don't really fully understand it you know. I think if you sit down and talk to the people who are involved in that list that came out, they are really, I think, taken aback by what a big mistake that was. And I think if you talk to reasonable people in the White House they realize that was a major mistake on their part because it doesn't do anything but reflect poorly on them and I don't think that that was their intention.

I don't know I cannot figure out in my wildest dreams why they would want to do that but I mean I think they realize now that that was not a prudent thing to do because it's only reflecting negatively on them.

I can't explain Peter Navarro he's in a world by himself so I don't even want to go there."
💉 "Prof. Florian Krammer: Life in a Virus Lab During the COVID-19 Pandemic"
Florian Krammer (Professor of Vaccinology at the Icahn School of Medicine at Mount Sinai) participates in a Deep Dive interview from The Infection Prevention Strategy (TIPS)
"The trajectory of Florian Krammer changed in early 2020 as the world descended into a pandemic. In this interview, Prof. Krammer shares many insights including an optimistic view of the vaccine candidates."
(Link)
.