🦠 COVID-19 | The need for hope | 🤕 614,073 | Deaths 28,238
📊 Daily Data Brief: 
614,073  cumulative cases (+88,262)
Active cases: 448,564 (+101,103) (this is the number of currently infected patients)
Total Deaths:  28,238 (+4,524)  
Serious/Critical Cases:  23,997  (+4,567) 
Source: Worldometers
---
Death curves (updated daily as ECDC releases). Major update with per country graphs now available❗️(Link)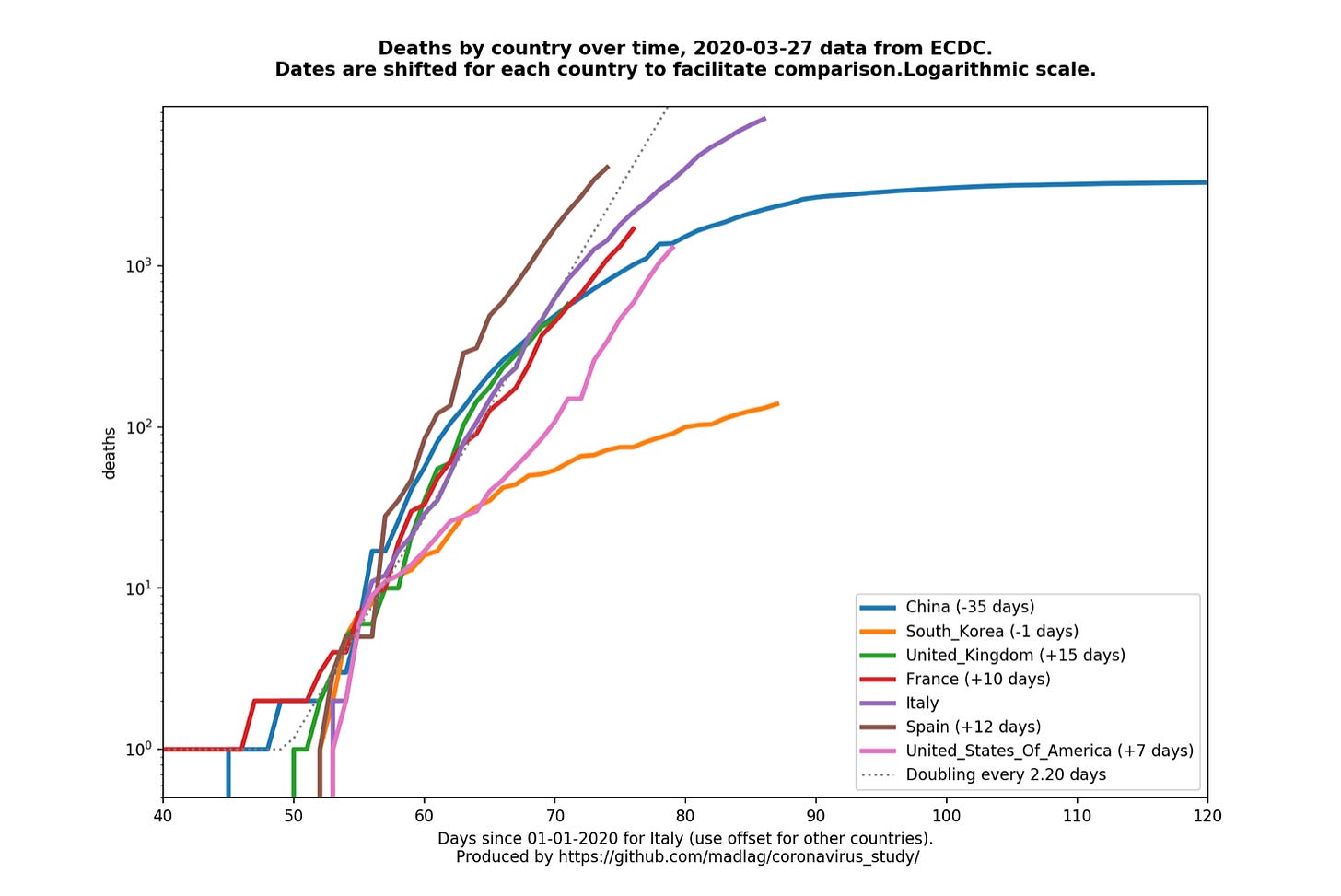 ---
COVID19 continues its exponential deadly spread while a growing part of the population enters another day of lockdown.
The human cost goes beyond the sick, the dead and the heroes that are the healthcare workers on the frontline of this battle with the virus. And beyond the question "when will it end?", there is increasingly the question "how much longer can we cope". The mental health cost of the crisis is still under reported.
The most tangible end to the crisis is a potential vaccine 18 months from now, and that is not a certainty. Hopefully, we will be able to find some therapeutics to help us manage the virus until then.
In the meantime, all of us question to varying degrees how much longer we can live this physically isolated life. There is no answer, but it is likely that we will not be able to hold much longer without asking the difficult questions as David Faris courageously does in today's article of the day: "On the looming psychological crisis".
---
🔒 Article of the day:
David Faris writes "On the looming psychological crisis" for The Week as a growing part of the world population enters indefinite or extended lockdowns.
As Faris writes, these lockdown measures have never been undertaken and even in war time, human physical connection (even in shelters or in between bombings) nourished our individual and collective resilience. The current cure for COVID19 puts us in unprecedented territory:
We don't know much of anything about the effects of cutting millions of people off at once from their friends, family, neighbors, daily routines, and leisure activities.
Whilst there has been extensive coverage of the economic cost of the virus (both apparent in the financial market crash as well as the size of the unprecedented fiscal stimulus packages), very little has been published about the mental health cost of the strict lockdown measures:
The indisputable health costs of isolation should force us to ask some difficult questions. How long can social distancing be maintained before the toll becomes unbearable for many? What structures can and will be put into place to help individuals through the inevitable mental health crisis that will accompany prolonged isolation? Is there a point at which the damage to society outweighs whatever benefits to overwhelmed health care systems can be realized with these policies? To be clear: I am not questioning whether these measures are necessary today, or whether they will save lives.
Expect these issues to get increasing coverage. Faris offers a very good primer on the issue. (Link)
---
🎬 Video of the day: This is another great and new video by Grant Sanderson "Simulating an Epidemic". Expect this one to feature as permanent video resource as Sanderson's previous one at the bottom of my newsletter covering "Exponential growth and epidemics".
---
💡 Long read: Michael Liebreich is founder and senior contributor to BloombergNEF (New Energy Finance). He writes a very thoughtful piece ("Covid-19 – The Low-Carbon Crisis") which goes way beyond the implications for carbon emission and renewable energy of COVID19. Liebreich is quite pessimistic about how long this could go for and how poorer countries will ultimately be hit harder by the pandemic than the ones who will get early access to a potential vaccines. It will test our resilience:
"Covid-19 will cast long-lasting psychological and political shadows, in the same way that the Great Depression or the World Wars inhabit the global psyche."
He hopes and advocates that stimulus money should be aimed at rewarding the industries and companies which have already invested in sustainability. However much Liebreich is pessimistic about the extent and length of the shock, he is positive on the innovation this crisis will spur from the obvious video conference technology to our way of working, all of which will be beneficial to lowering carbon emission.
A very thought provoking and worthwhile read. (Link)
---
🦠 Yong-Zhen Zhang and Edward C .Holmes paper "A Genomic Perspective on the Origin and Emergence of SARS-CoV-2" is fascinating and accessible.
The paper looks at the state of our knowledge on COVID19 relative to other coronaviruses and partly explains why its specificities and its emergence caught authorities by surprise:
"The emergence and rapid spread of COVID-19 signifies a perfect epidemiological storm. A respiratory pathogen of relatively high virulence from a virus family that has an unusual knack of jumping species boundaries, that emerged in a major population center and travel hub shortly before the biggest travel period of the year: the Chinese Spring Festival."
It looks at its origin and its potential chain of transmission from the animal kingdom to humans. The research community still has knowledge gaps to be able to reach definite conclusions:
Caution must therefore always be exercised when attempting to infer exact transmission events
The authors believe that COVID19 will become endemic (like the flu…), and that other zoonotic pandemics are likely to follow. How can we protect our societies? Beyond their inevitability the authors offer some basic advice:
"Given the enormous diversity of viruses in wildlife and their ongoing evolution, arguably the simplest and most cost-effective way to reduce the risk of future outbreaks is to limit our exposure to animal pathogens as much as possible. While our intimate relationship with the animal world means we cannot build impregnable barriers, stronger action against the illegal wildlife trade and removing all mammalian (and perhaps avian) wildlife from wet markets will provide an important buffer."
A very informative read on COVID19 and coronaviruses in general. (Link)
🦠 One of our hopes is that COVID19 spread will be hampered as warmer and/or more humid weather arrives. Kathleen O'Reilly et al. of the Center of Mathematical Modelling of Infectious Diseases (CMMID) have published a pre-print on this topic. In the abstract they write:
"The ability of SARS-CoV-2 to effectively spread globally, including in warm and humid climates, suggests that seasonality cannot be considered a key modulating factor of SARS-CoV-2 transmissibility. While warmer weather may slightly reduce transmission of SARS-CoV-2, there is no evidence to suggest that warmer conditions in northern hemisphere summer months will reduce the effectiveness of SARS-CoV-2 transmission to an extent that few additional interventions are needed to curb its spread."
Cold shower on that hope for now. (Link)
🇨🇳 As China allegedly goes back to work, the FT runs an article: "Hidden infections challenge China's claim coronavirus is under control". The article questions the regime's assertion that the virus is under control given the continuous refusal of the authorities to report asymptomatic cases. Nurses and doctors report (speaking on condition of anonymity) point to the government having the reporting under control more than the pandemic. Given China's being further along in its management of the pandemic, and being amongst the first to come out of its strict lockdown, quality data could provide critical information to policy makers in countries around the world. (Link)
🇨🇳 Anne- Marie Brady (Professor in Political Science and International Relations at the University of Canterbury in Christchurch and a Global Fellow at the Wilson Center, Washington) writes "China wants face and we're left with the cost" for the MacDonald Laurier Institute (Policy think tank based in Ottawa).
The article echoes some of the issues I raised about China in my previous post ("Let's not squander second opportunity") and given their initial obfuscation and censorship around COVID19. Brady goes further in the paper that the article introduces and writes:
"Our open economies and open societies have allowed the CCP to have an undue influence on our public sphere. It will take recognition of this influence and a major strategic adjustment to correct this."
It is a question that will be increasingly raised during this COVID19 pandemic and one which we should have the courage to take on given China's initial behaviour in the crisis.
As we think about the values which more than ever we need to win against the virus, we should not forget the quote from Thomas Jefferson which Brady mentions:
"The price of democracy is eternal vigilance." 
A timely and important read. (Link)
---
🎬 Videos: modelling and numbers
Ben Sparks explains (and codes) the so-called SIR Model being used to predict the spread of COVID19. In conversation with Brady Haran from Numberphile (Link)

Nicholas P. Jewell is Chair of Biostatistics and Epidemiology at the London School of Medicine and Tropical Medicine and Professor of the Graduate School (Biostatistics and Statistics) at the University of California, Berkeley. In this video he explains how epidemiology modelling is useful in guiding policy makers (Link)
---
📰 Cronycle resource:
Cronycle has made available a number of open-access feeds on its website which I extensively use for the Corona Daily. The four first feeds are:
1.  COVID-19 General (Link) 

2.  COVID-19 x Resilience (Link)  

3.  COVID-19 x HCQ/CQ (Link)  (HydroxyChloroquine and Chloroquine)

4. Gig Economy x COVID-19 (Link) 
And I have added a new feed below
5. Supply Chain x COVID-19 (Link)
I will write more in the future on how you can leverage Cronycle for keeping up to date in between two editions of this newsletter. (Link)
NEW❗️Here is a blog post from Valerie Pegon at Cronycle: "Grow knowledge about Covid-19, not anxiety!" (Link)
---
📊 A picture is worth a thousand words:  Global (🌎) and local (with relevant flag) visualisation and forecasting tool
---
🏛  Notable collaborative projects 
Oxford COVID-19 Government Response Tracker (OxCGRT) was launched yesterday. Data is collected from public sources by a team of dozens of Oxford University students and staff from every part of the world. It also looks at stringency of the measures and plots stringency with case curves. A great initiative and resource (Link)

Mike Butcher (Editor at Large Techcrunch and founder of TechforUK), had refocused TechforUK on the fight against COVID19. It is a very effective hands-on team of volunteer. Do reach out to them. He has also teamed up with We are now working closely with the volunteers behind the "Coronavirus Tech Handbook". (They are 'cousins' of ours who originally created the Electiontechhandbook). Volunteer collaboration at its best! (Link)

Tariq Krim has started a COVID19 website tracking data about each government policy response to the pandemic (Link)
---
📈 Exponential growth and epidemics (permanent video)
This is an excellent video explaining "exponential growth" and epidemics. Although we are all familiar with the phrase, its authors rightly says that "yet human intuition has a hard time recognising what it means". This is a ❗️MUST WATCH❗️to understand fully what is upon us but also how early behavioural changes at scale can have a massive impact on the level of exponential growth of COVID19 (Link)