📊 Daily Data Brief: August 11, 2020, 20:45 GMT (❗️August 02, 2020, 20:57 GMT)
Cumulative case: 20,417,377 (+2,247,403) cumulative cases
Active cases: 6,363,975 (+306,487) (this is the number of currently infected patients)
Total Deaths: 742,311 (+51,059)
Serious/Critical Cases: 64,676 (-1,235)
Recovered: 13,311,091 (+1,889,857)
Source: Worldometers
1) Seven-day rolling average of new deaths (ECDC data)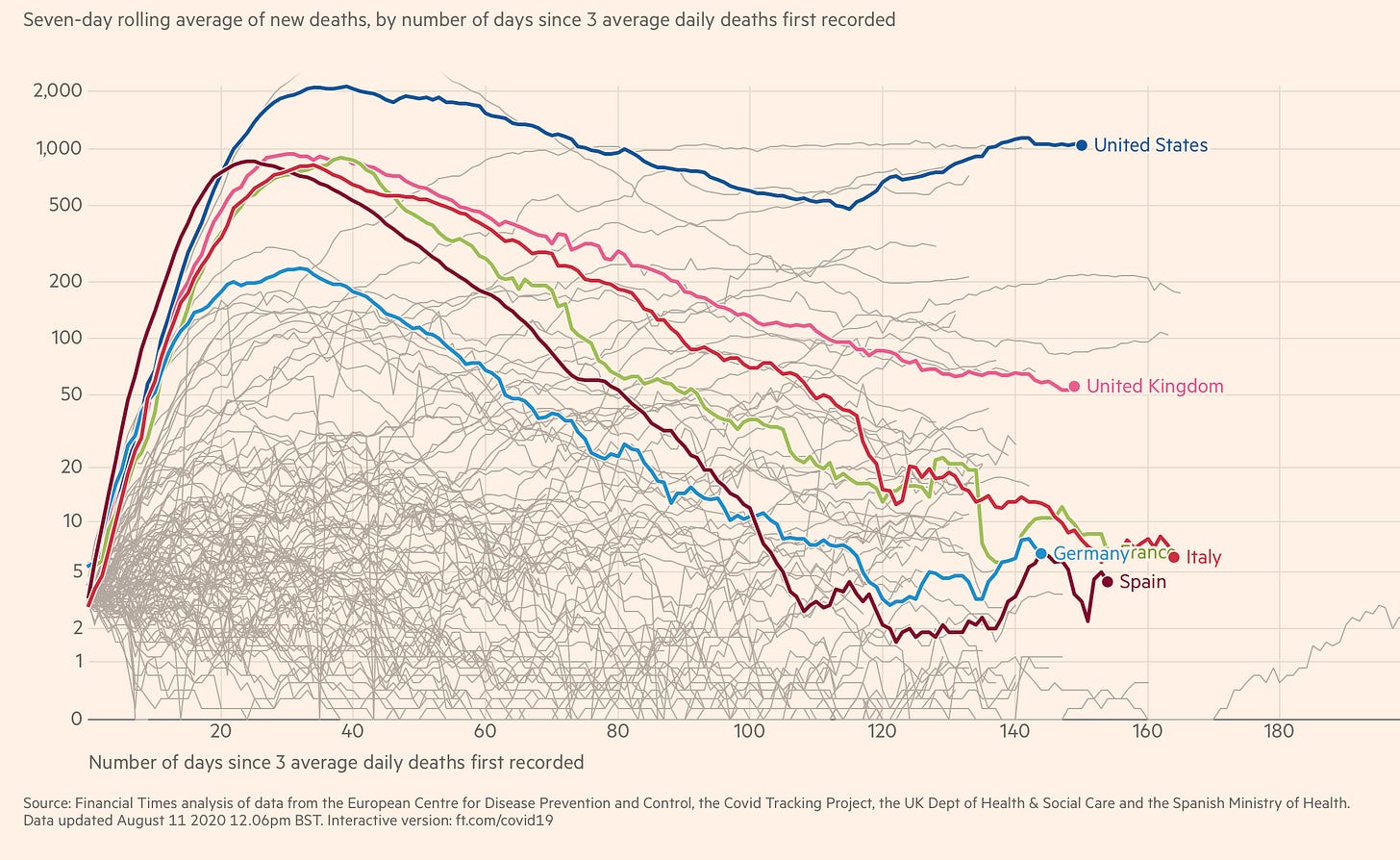 ❗️Tourism risk: I have decided to add the below the newly confirmed case number per capita chart which also includes test positivity rate in the country line color, particularly as the UK continues to add countries to its quarantine list. The latest: Bahamas, Belgium and Andorra.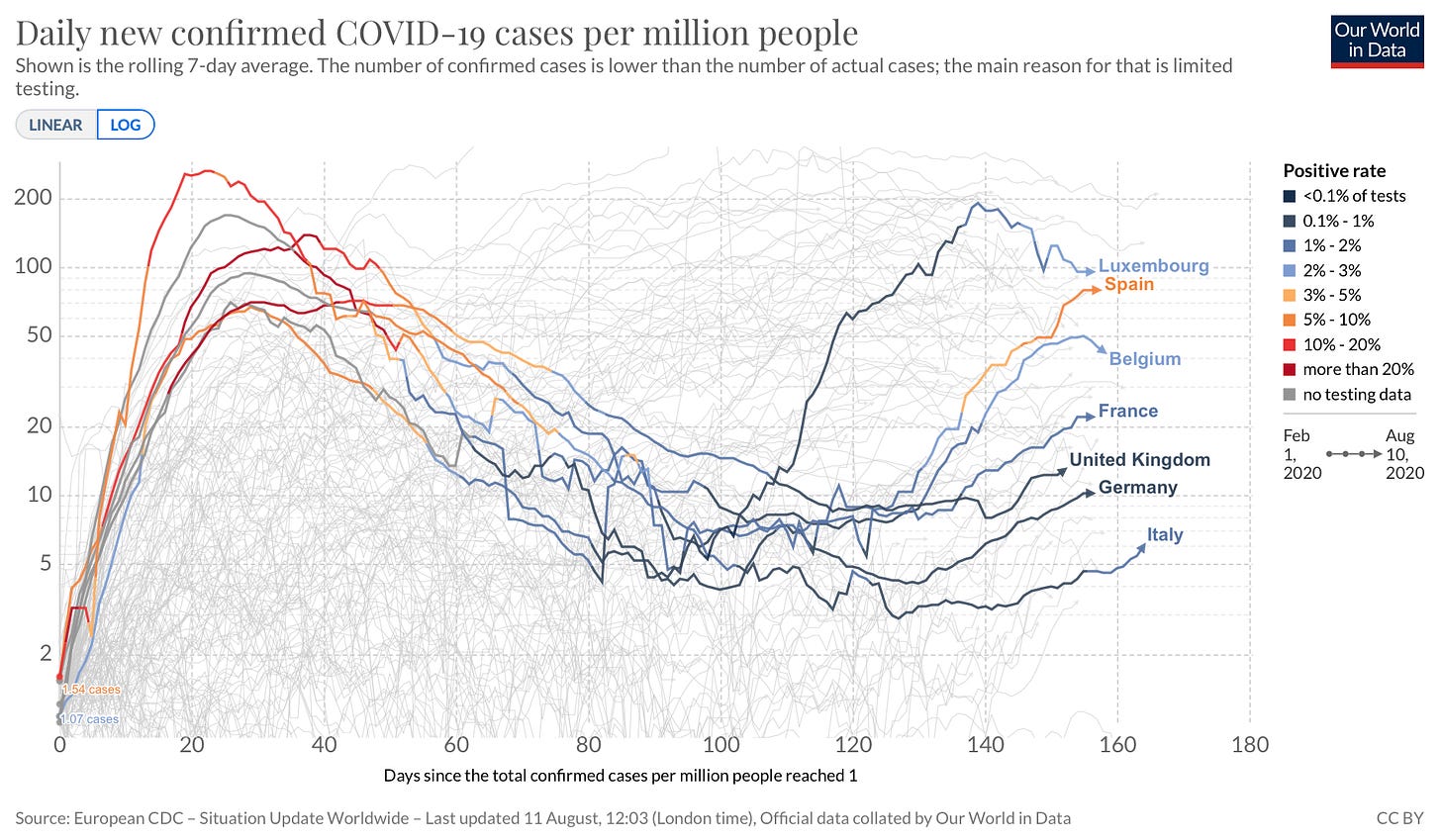 Showing a chart from the FT today highlighting the worrying situation in Brazil, Mexico, India and Russia and Iran. Also the FT comparative charts now allow up to 6 countries.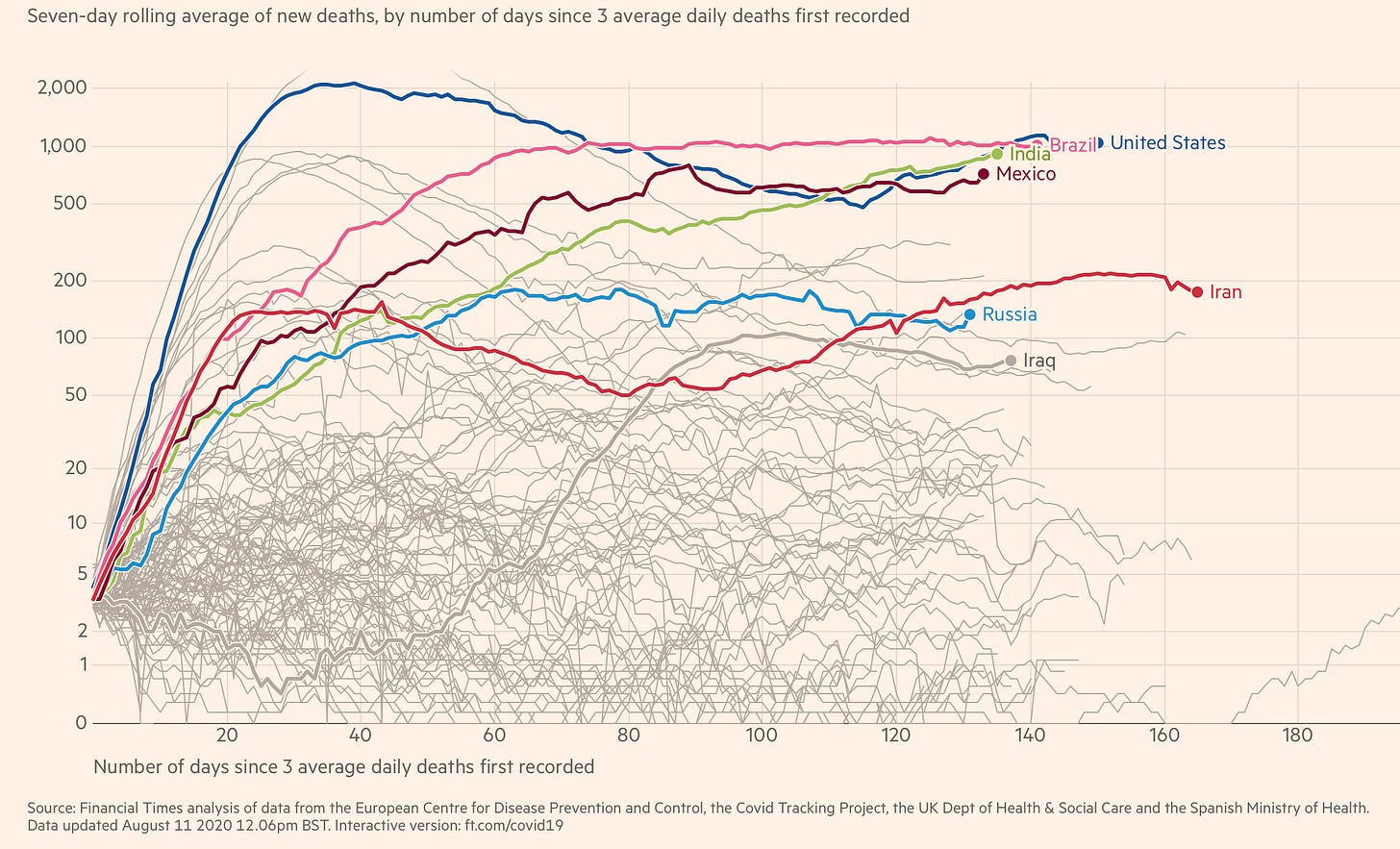 2) US situation ( two NEW❗️charts with more local granularity than Rt numbers and more relevant to school reopenings): it's getting better.
a) COVID risk level tracker from the Harvard Global Health Institute:
Four risk levels explained in this NPR article from July 1 with corresponding policy recommendation for each.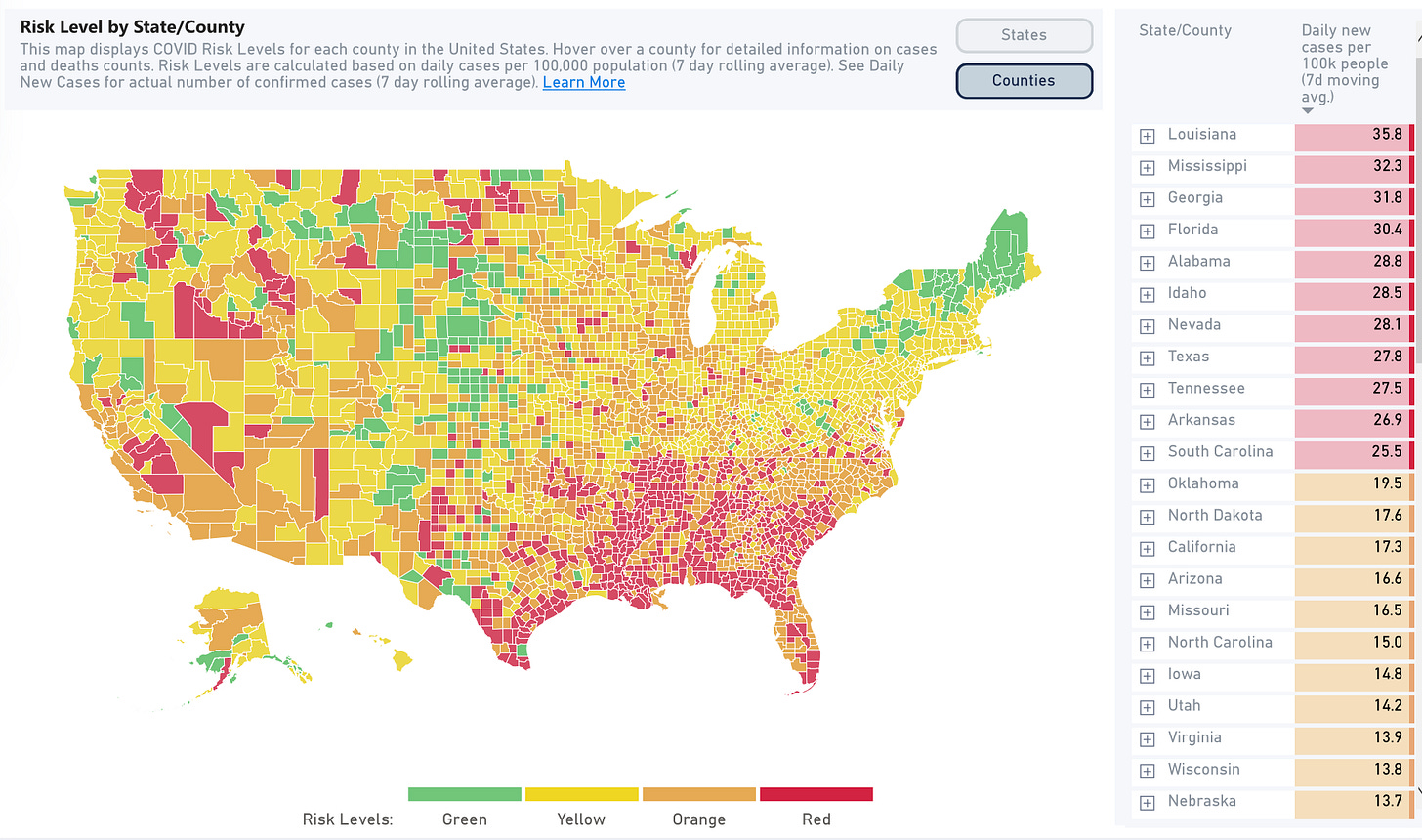 b) The COVID Tracking Project 2 Metrics 7-Day Average Curves (current hospitalisation & death curves)
Currently hospitalised has been chosen as a metric instead of daily cases as testing has significantly increased since the first surge last April in the NorthEast in the US.
We are currently witnessing same level of hospitalisation as then, but less than half the number of deaths. More recently both currently hospitalised and cases have declined (it is worth pointing out some of the quality of data reservations outlined in this article ("The Last Thing We Need Is Fewer Tests") though.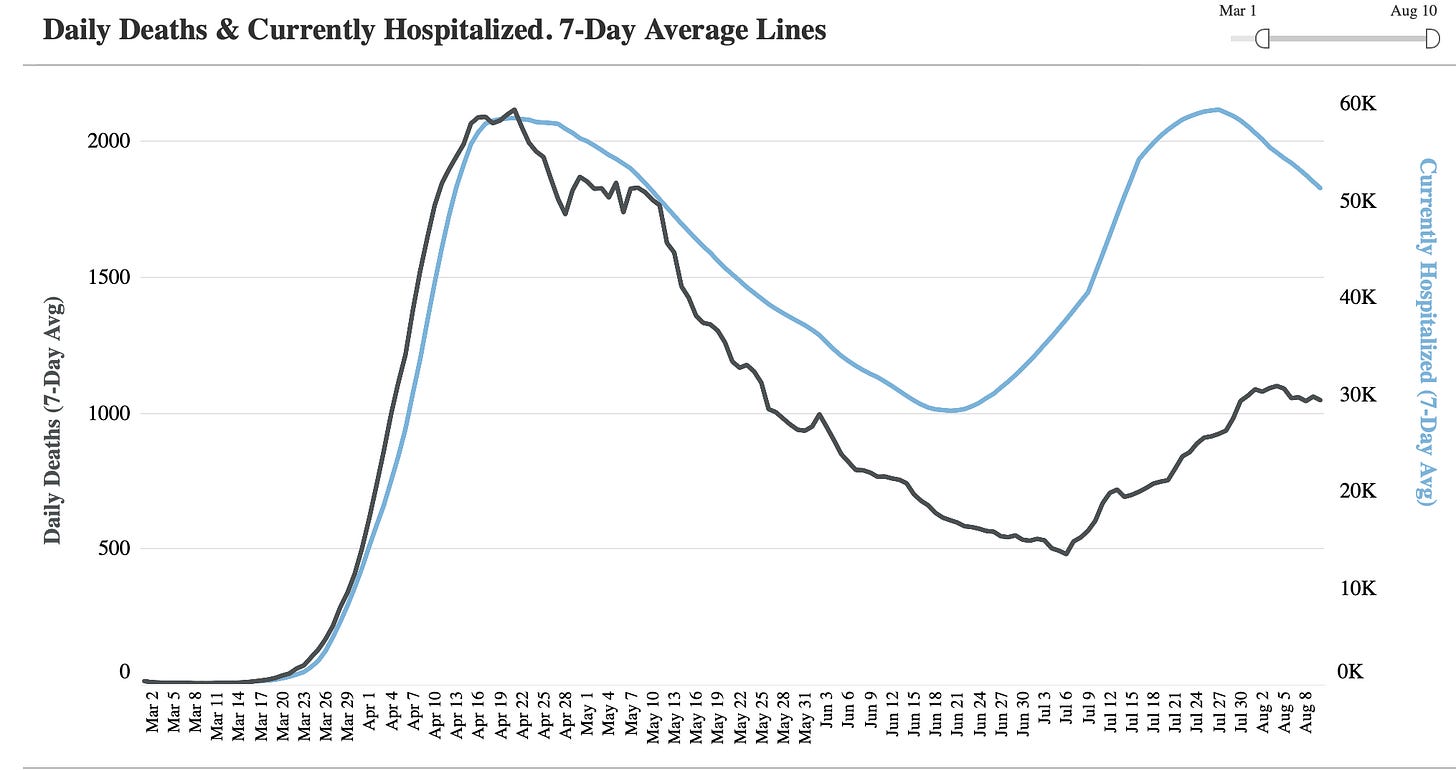 ---
There are a number of reasons to be optimistic outside emerging market countries. Sadly, the latter might be on the brink of a public health catastrophe triggered by the pandemic.
Why the optimism;
What could go wrong?
Longer term, public US healthcare system will need deep reforms.
All the above covered today.
The podcasts in today's edition are must watch: a technical one on correlates of immunity and an interview of Bill Gates talking pandemic but also TikTok and social media.
---
❗️Articles of the day:
🌍 Apoorva Mandavilli writes 'The Biggest Monster' Is Spreading. And It's Not the Coronavirus" for the New York Times (Link)
This is what worries me.
"Tuberculosis kills 1.5 million people each year. Lockdowns and supply-chain disruptions threaten progress against the disease as well as H.I.V. and malaria."
Mandavilli details how delay in diagnosis, treatment interruption and some of the deficient public health infrastructure in emerging market countries might trigger a global public health catastrophe.
🔮 Megan Scudellari writes "How the pandemic might play out in 2021 and beyond" for Nature. (Link)
"If immunity to the virus lasts less than a year, for example, similar to other human coronaviruses in circulation, there could be annual surges in COVID-19 infections through to 2025 and beyond. Here, Nature explores what the science says about the months and years to come."
A great article to know what the future holds in different scenarios.
---
💡Tweet of the day:
Excerpt from Carl Sagan's book written in 1995: "The Demon-Haunted world: Science as a candle in the dark".
Will the pandemic put science center stage again and revalue it positively for a majority? Or will politicisation and social media continue to degrade it and persistently replace it with viral conspiracies and convenient disinformation.
As we witness (or worse) experience the cost of the latter, will we grow durable immunity against disinformation or will we continue to indulge in it post pandemic until the next avoidable catastrophe.
---
Twitter threads:
🦠 Trevor Bedford (Scientist at Fred Hutch in Seattle): "With a little help from population immunity" (Link)
Bedford hypothesises that population immunity (whilst not reaching widely accepted levels of "herd immunity") could already locally help epidemic control when accompanied with proper societal behaviour.
Bedford is far from advocating relying on population immunity to control COVID-19, but provides a Tweetorial explaining its potential role in reducing Rt.
📉 Youyang Gu (the most accurate COVID-19 forecaster): "The interplay between immunity, behaviour and intervention: or mining the Louisiana swamps for clues about the future". (Link)
A fascinating deeper look at county level data in Louisiana to try and infer he role of population immunity and behavioural change in controlling the epidemic. Why have counties that have been hit hard during the first wave not suffered a second surge?
The answer: probably a "combination of both" according to Gu. A fascinating analysis.
🇺🇸 Tom Frieden (Former CDC director): "The tide is turning but is still very high" (Link)
A wonderful summary of where we stand with cautious optimism. Also sharing worries about part of Latin America and Africa, as covered above by Mandavilli.
---
💒 Image of the day: Eric Topol (Founder and Director of the Scripps Research Translational Institute) initially tweeted this chart below of a spreading event in a Church setting and retweeted it 2 days later as his chart of the week. (Link)
It is noteworthy from the reported alleged chains of transmission from children to other children and adults, particularly when countries around the world continue to agonise around school re-openings.
There is also a very good Twitter thread (a number of references worth reading in the thread) and Vox article ("What scientists are learning about kids and Covid-19 infection") of what we know and do not know thus far about school and children.
---
🧪 Simulation of the day
"Explore what SARS-CoV-2 outbreaks can look like in workplaces, universities, and other group settings." (Link)
This is a simulation tool developed by CT Bergstrom (Professor of Biology at UW) and his graduate student Rhyan McGee.
See below a plot generated with this tool which shows the importance of testing in controlling outbreak, but more importantly how critical is turnaround time (how soon you get your testing results) and frequency of testing.
It is for this reason that Bill Gates in one of the podcast of the day below says that tests with turnaround time greater than 3 days should not be charged.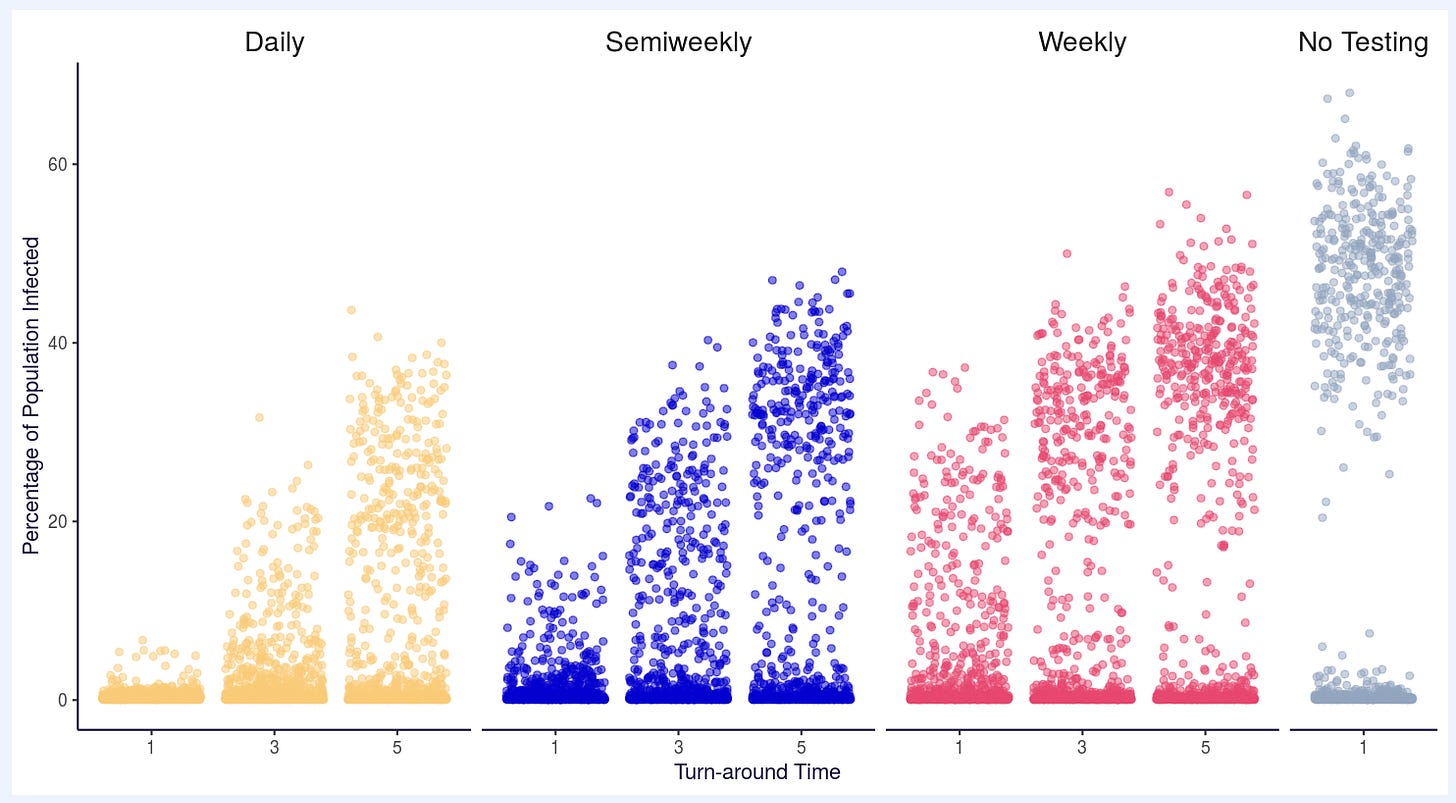 It also explains why there is a lot of focus on developing cheaper and faster test to help in controlling COVID-19.
This is a good overview article in Science written by Robert Service: "Fast, cheap tests could enable safer reopening".
If you want to follow development in this area you can access (or follow) my public feed of article here.
---
Immunity and Designer antibodies
💊 Jon Cohen writes "Designer antibodies could battle COVID-19 before vaccines arrive". While most eyes are on the vaccine progress there is a possibility that monoclonal antibodies are approved earlier for both treatment and prevention.
Trials are underway and authorisation could arrive before year end. It will likely be an addition to the therapeutic toolbox for rich countries only given the hight cost of these biologics. (Link)
🦠 Ed Yong writes "Immunology Is Where Intuition Goes to Die" for the Atlantic. A great piece by Yong trying to make immunology accessible to wider audience despite its intricate complexity for non practitioners. Well worth a read (Link)
The "Unravelling of America"
Every day brings its post-mortem article (even though the US is still in the middle of its pandemic) of what went wrong in the US in its response to COVID-19. See below a compendium of the ones which have stood out by their virality or their insightfulness or both.
My favourite is the one from Ed Yong in The Atlantic: he's clearly visceral about Trump but objective about the socio-economic flaws which the pandemic has exposed in the US, as well as the needed introspection to correct and better prepare for the next pandemic.
Also (finally) some welcome objectivity about the World Health Organisation and China's role:
"To avert a pandemic, affected nations must alert their neighbors quickly. In 2003, China covered up the early spread of SARS, allowing the new disease to gain a foothold, and in 2020, history repeated itself. The Chinese government downplayed the possibility that SARS‑CoV‑2 was spreading among humans, and only confirmed as much on January 20, after millions had traveled around the country for the lunar new year. Doctors who tried to raise the alarm were censured and threatened. One, Li Wenliang, later died of COVID‑19. The World Health Organization initially parroted China's line and did not declare a public-health emergency of international concern until January 30. By then, an estimated 10,000 people in 20 countries had been infected, and the virus was spreading fast."
🛑 But perhaps more interestingly is the commentary from Deanna Kreisel (professor of English literature at the University of Mississippi") "The unravelling of "The unravelling of America"" in Medium. (Link)
Kreisel rightly identifies the target audience of these articles, and more importantly why they are spreading and so easily igniting their audience:
"As Mr. Davis is doubtless aware, the readership for this essay is almost certainly liberals and lefties — those drawn to its dire, scolding title (and those reading Rolling Stone in the first place). It is these very people — my semblables, my frères and sœurs — who are most hurting right now, most angry and disillusioned, swinging wildly back and forth between bitter hatred of the alt-right minority in our country and self-excoriation and shame. We are the bait for these clicks — I know, of course, because I was also drawn like a moth to a flame by the promise of yet another diagnosis of our ills and prognosis of our inexorable slide into fascist dictatorship. We can't help but read these pieces, because we are in pain and we care about our country."
Kreisel provides a necessary filter before reading this new genre of articles or a helpful analysis to better reflect on them going forward.
Back on July 2nd, the edition of the Corona Daily was titled "Societal responsibility and hopefully government leadership". As argued then, there is so much which can be improved in behaviour, regardless of who is in the White House, there is so much hard work and discovery happening in Science and Public Health, that at times these articles appear at best unhelpful or as act of self-flagellation for the American reader spreading them as desperate and devout act to an America which they feel Trump is neither representative of or is irremediably burying with his presidency.
The sometimes hyperbolic tone of these articles (or some paragraph within them) and in particular their title, appears almost distrusting of fellow American voters and citizens. Distrusting of their judgment and their ability to make the right decision for their health or the future of their country. As if, like Carl Sagan had warned, 'Americans' were past a point of no return, and could be manipulated en masse and celebrate ignorance until the inevitable demise of their country.
I could not disagree more, but like the fight against COVID-19, and perhaps more than ever, it is up to us all.
America is bigger than Trump.
🇺🇸 Helen Branswell writes "Winter is coming: Why America's window of opportunity to beat back Covid-19 is closing" for STAT news. This is a slightly less hyperbolic piece, but nonetheless somewhat with a more alarming title than the core of the article. It rightly points to the opportunity to do the utmost within 'Americans' control to suppress the virus ahead of school reopening and the arrival of the flu this fall. (Link)
🇺🇸 Andy Slavitt writes "The COVID-19 Pandemic Underscores the Need to Address Structural Challenges of the US Health Care System" for the JAMA network. Slavitt provides his own view of what the pandemic has uncovered and how to start thinking about reform. Americans need more thinking piece like these than the self-flagellation ones which every day and media is keen to publish:
"In times of crisis, good systems do not exacerbate challenges, they ameliorate them. That did not happen when the COVID-19 pandemic hit the US, and it shows major adjustments need to be made. Defining moments like this are supposed to spur change for the things that have long been broken. If the US cannot learn from the events of 2020 and make necessary changes, when will it?"
(Link)
---
🎙 Podcasts of the day
💉 On Correlates of immunity
Global COVID Lab Meeting with Dr. Galit Alter, Professor of Medicine at the Ragon Institute of MGH, MIT, and Harvard. One of the best talks I have recently watched(❗️) in an area of research which has direct relevance to the vaccines, monoclonal antibodies and convalescent plasma.
Here is a comment and a paper by Alter et al. to accompany it:
"Her research is focused on the development of systems biology tools to define the correlates of immunity against infectious diseases that ravage the globe. Her work points to unexpected mechanisms of protection against HIV, malaria, and tuberculosis has led to the development of novel diagnostics to monitor chronic infections/diseases. Hear Dr. Alter discuss how this work is now being applied to the development of novel classes of COVID-19 therapeutics"
🇺🇸 Bill Gates on COVID-19 and social media (Podcast Link and WIRED article)
Quote of the interview:
"At this point, are you optimistic?
Yes. You have to admit there's been trillions of dollars of economic damage done and a lot of debts, but the innovation pipeline on scaling up diagnostics, on new therapeutics, on vaccines is actually quite impressive. And that makes me feel like, for the rich world, we should largely be able to end this thing by the end of 2021, and for the world at large by the end of 2022"