🦠 COVID-19 | Model addiction | 🤕 525,811 | Deaths 23,714
📊 Daily Data Brief: 
525,811  cumulative cases (+38,748)
Active cases: 347,461 (+44,171) (this is the number of currently infected patients)
Total Deaths:  23,714 (+1,689) 
Serious/Critical Cases:  19,430  (+1,721) 
Source: Worldometers
---
Death curves (updated daily as ECDC releases). Major update with per country graphs now available❗️(Link)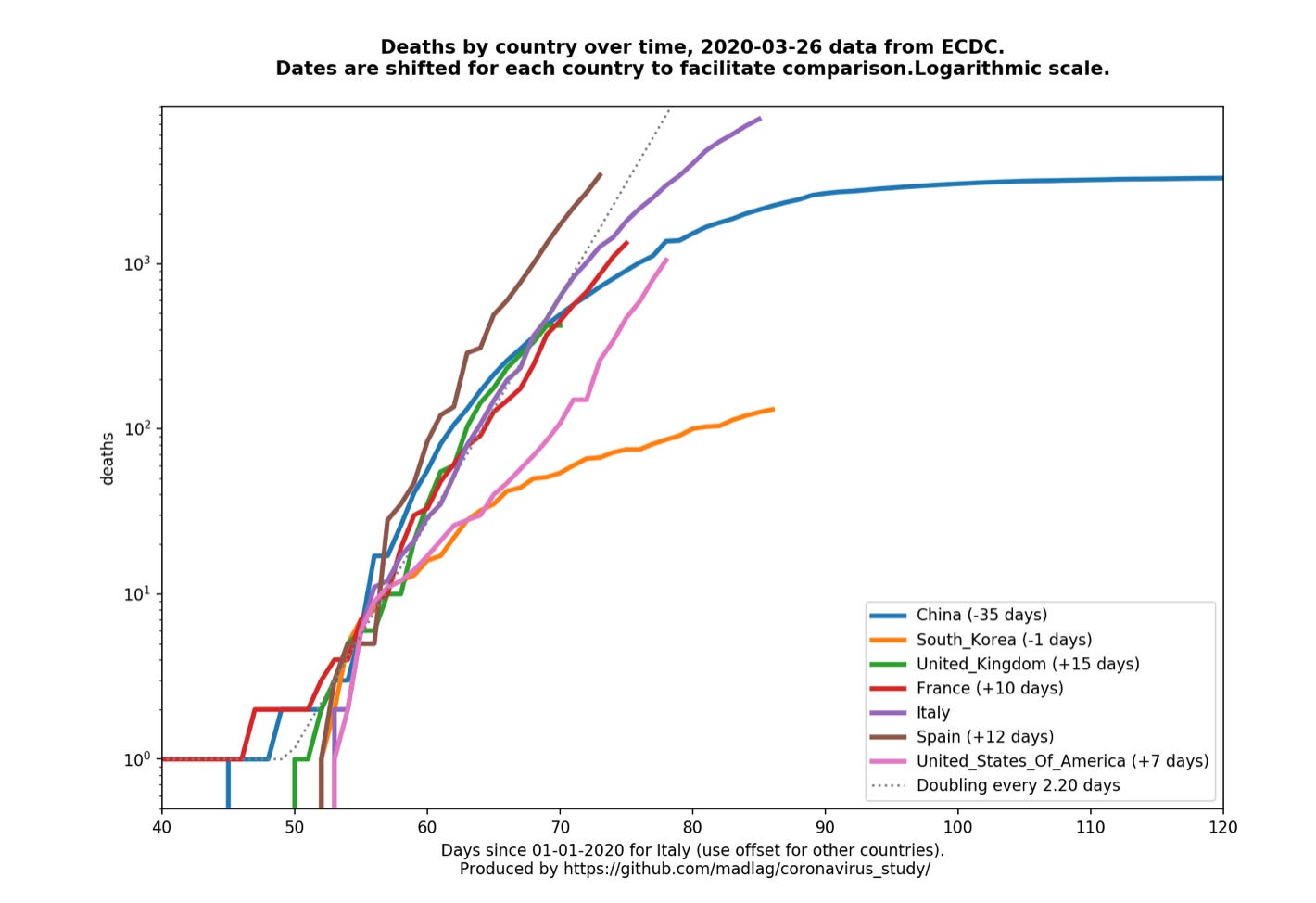 ---
The US is now the country with the highest number of reported cases (85,762 cumulative cases), 3.3 million Americans filed for unemployment this week and this morning Boris Johnson tested positive for COVID19 with mild symptom thus far.
The US is of particular concern even though the private sector response to the virus is impressive. Will the anti-fragility it confers to the country as a whole more than balance some of its blatant weaknesses?
Today I want to talk about "Model addiction", not the one which might have captured your imagination only a few weeks ago. The names I am thinking of when speaking about this addiction are: Ferguson, Lipsitch, Kucharski, Rivers, Bedford et al. They are the epidemiologists which are putting models in the public domain and in front of policy makers. They capture our imagination, but their models carry the spectre of death with them: death of people or the economy or both. Or maybe we are ascribing to them and their mathematical models too much weight and most probably undue accountability. Maybe it is our anxiety which make us overlay a "Die" or "Live" rating at the end of their analysis (called "papers" in the academic world). By doing so we are matching the "Buy" or "Sell" rating of our financial analysts, and continuing to feed our growing obsession with numbers. The illusion of certainty.
As the statistician George Box (quoted in my newsletter yesterday) supposedly said: "All models are wrong, but some are useful." It is our inability to sustain the radical uncertainty COVID19 brings which make us interact the way we do with epidemiology models. Why in dealing with an even more complex problem than economist or financial do, should we treat their analysis and their field any differently than we are treating other forecasting work. And why should our energy and time be spent on whether they are right or wrong, as opposed to useful in guiding our behaviour and policy. What if we would just accept that they do not hold the truth but can help all of us better manage the uncertainty and risk-manage the situation. And if we are successful in "flattening the curve", let us never say that they were scaremongers because the policy worked.
It is both in epidemiology and the public interest that we confer to modelling the value it objectively deserves. Underestimating its value would be wrong as would conferring it God like virtues. What is important is that their analysis continue to be made public and open to debate, and that the accountability lie with with the decision makers who benefited from seeing them (from individuals to the top leadership).
Let us face the radical uncertainty and our confinement with the help of models, but let us not self-inflict the ills of model addiction.
---
🇺🇸 Picture of the day:  The Institute for Health Metrics and Evaluation (IHME) is an independent global health research center at the University of Washington (UW). Many departments at UW have made some stellar work since the beginning of the COVID19 crisis. See below an image estimating peak resource use day, bed and ICU shortage for ventilators needed for the US. The tool allows you to look at individual states as well (Link)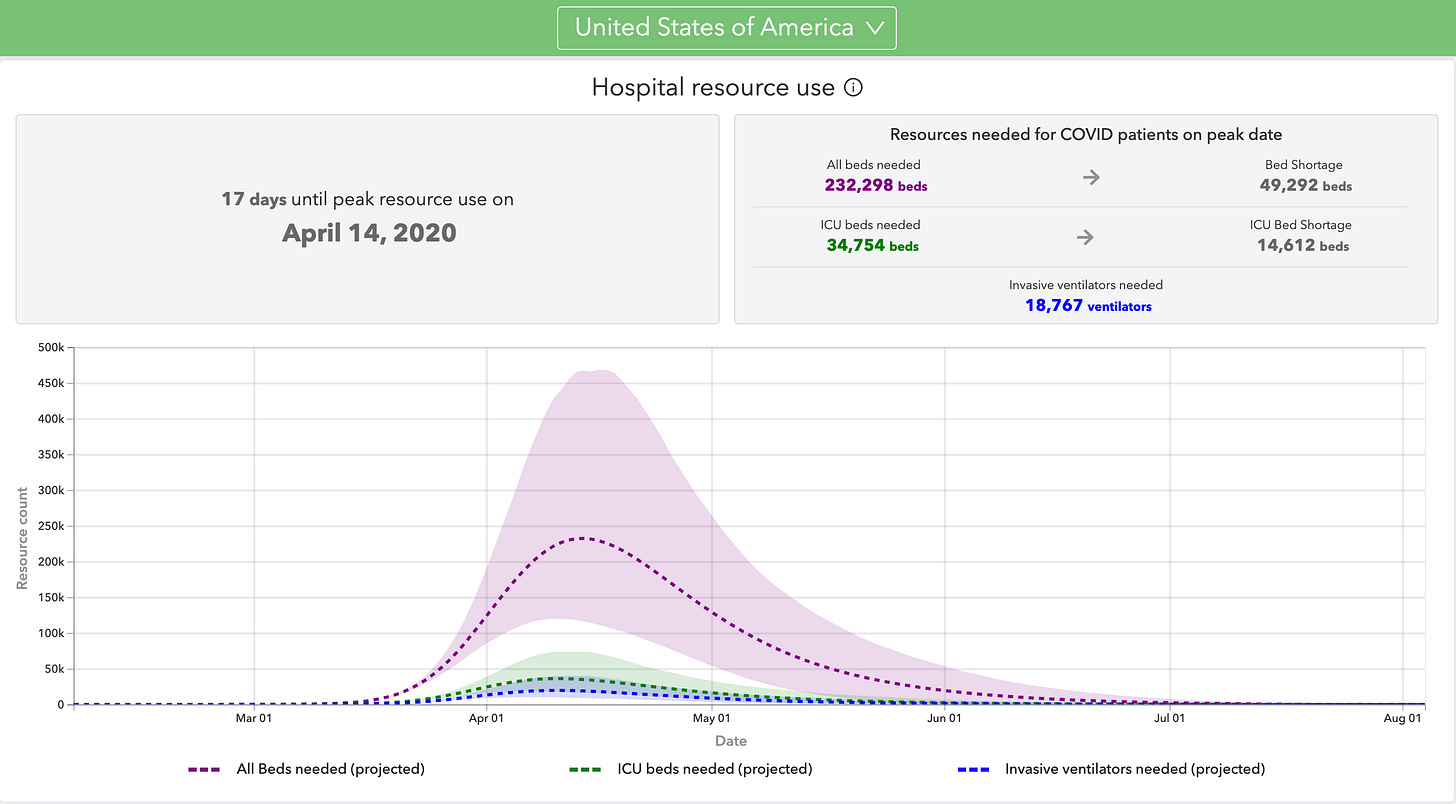 ---
🦠 Long read: "Surgeon Henry Marsh: Covid-19 and the doctor's dilemma ?" in the Financial Times.
This is a long article from a retired surgeon, Henry Marsh. Beautifully written, personal and looking at the human tragedy that COVID19 is. Tackling the difficult choices that doctors and society have to make to tackle this pandemic. Confronting us with our human limitation however good our intentions and capabilities are.
If there is one read today, this is the one. (Link)
---
🦠 The forecast team at Institute for Health Metrics and Evaluation at University of Washington has published a pre-print (not peer reviewed) article forecasting health capacity and peak death for all states in the US, assuming that social distancing measures are maintained. It is this team who is also being the picture of the day today. The conclusion are grim:
"Even with social distancing measures enacted and sustained, the peak demand for hospital services due to the COVID-19 pandemic is likely going to exceed capacity substantially."
The team urges for health capacity to surge. The private sector is gearing up to do so in the US. Tough times ahead. (Link)
🦠 Epidemiologist Marc Lipsitch has produced a needed and helpful Twitter thread following the White House press conference yesterday. It starts with:
"Tonight #DeborahBirx stated that models anticipating large-scale transmission of COVID-19 do not match reality on the ground. Our modeling (done by @StephenKissler based on work with @ctedijanto and @yhgrad and me) is one of the models she is talking about."
It is one of the reason I chose to talk about "model addiction" in my opening. It also follows on Neil Ferguson needing to make the same clarification about his committee hearing yesterday with his own thread:
Both of them reflect in part teething problem in epidemiology engaging with policy makers and the public (or even PR agencies as has been reported) but more importantly how high the stakes our in this pandemic.
Marc Lipsitch does a great job in this thread pointing also to a paper ("Modeling the Comparative Impact of Individual Quarantine vs. Active Monitoring of Contacts for the Mitigation of COVID-19") he co-authored. A lot of modelling and research is now published to help policy makers in the next phase: how do we get people safely back to work to care, increase capacity and then start the economy beyond COVID19 moving.
There are still questions about the effectiveness of the current physical distancing measures and doubt about the success of the contact tracing at scale which he advocates, but hard work and doing our best is all we can do.
Lipsitch also criticises the "assurance" given by Deborah Birx to the American people during the White House briefing about not reaching the level of under capacity which Italy is currently experiencing. Overall a thread well worth reading to more objectively assess and face the radical uncertainty of COVID19. (Link)
🦠 In parallel we have also seen criticism of the press coverage or individual reporting. In a Twitter thread today, Kai Kupferschmidt from Science takes on some of the criticism about his earlier reporting on COVID19. Kupferschmidt goes through what he expected, where he was wrong and what he did not foresee. The truth is we are continuously learning about COVID19 and scientists, journalists and policy makers will have to respectively publish, write and decide on the best of their knowledge at their time.
All of them should be ready to face public scrutiny, but there is a difference between wilful deception or ignorance and dealing with radical uncertainty with the best of one's knowledge and capability.
Let's be fair and in doubt kind to all doing their best to fight this pandemic. (Link)
📊 FiveThirtyEight has published "Experts Say The Coronavirus Outlook Has Worsened, But The Trajectory Is Still Unclear". This is smart and deals with what I focus on today. FiveThirtyEight is a blog which was founded by Nate Silver and focuses on "opinion poll analysis, politics, economics, and sports blogging". It is therefore experienced in dealing with data and being wrong. It has decided to run a rolling a weekly survey of infectious disease researchers from institutions around the United States. The questions included in this week survey (23-24 March) are:
What is the smallest, most likely and largest number of total cases that The COVID Tracking Project will report on March 29?

How many people will die in the U.S. due to COVID-19 this year?

How many total COVID-19 infections were actually in the U.S. on March 23?

Of the next six months, which month will see the most COVID-19 related hospitalizations in the U.S.?

How many states and territories will report more than 100 cases by March 29?
You can see the range for each of the above questions and will be able to monitor their evolution going forward. By doing so, 538 has done a great service to epidemiologists, policy makers and the public. Thank you. (Link)
---
Privacy department: this might become an area of focus quite soon
🚔  Jaap-Henk Hoepman an associate professor in privacy enhancing protocols and privacy by design at the Digital Security group of the Institute for Computing and Information Sciences of the Radboud University Nijmegen, the Netherlands.
Hoepman has been following what countries have done in the interest of tracking and containing COVID19, and most countries "have turned to invasive forms of surveillance based on the location data that mobile telephone operators collect of their users". Not only in China but also in South Korea, Israel, and in the EU.
Very early on, Hoepman sets out that his blogpost ("Hansel and Gretel and the Virus: Privacy Conscious Contact Tracing") is not about discussing the proportionality of the surveillance state resorts to given the circumstances but more what the concerns of the public should be and whether there are better alternatives.
It is a challenging problem and Hoepman does a fantastic job at addressing what he set out to do in hist post. (Link)
📱 Hyunghoon Cho et al. published a paper in ArXiv "Contact Tracing Mobile Apps for COVID-19: Privacy Considerations and Related Trade-offs". The hope of the researcher in writing the paper are:
"We hope in writing this document to ensure that privacy is a central feature of conversations surrounding mobile contact tracing apps and to encourage community efforts to develop alter- native effective solutions with stronger privacy protection for the users"
COVID19 can either be a new beginning or entrench some of data surveillance paradigm which has become the norm. We should not let urgency and severity of COVID19 dismiss better solutions and data paradigm when possible. Both Cho and Hoepman help us in questioning and building alternatives. (Link)
🖥 Jack Morse writes "Naked man crashing school's video call is a privacy lesson for all" for Mashable. In case, like me, you had not followed, this is what happened:
"A group of Norwegian students confronted that disturbing truth this week when a naked man crashed their school's video call. So reports the Norwegian outlet NRK, which notes that the students involved were children, and that the man was speaking directly to them while engaged in sexual activity."
A vivid reminder that digital rooms and digital in general, has privacy consideration which are different from that of physical spaces. An important and short read. (Link)
---
📊 A picture is worth a thousand words:  Global (🌎) and local (with relevant flag) visualisation and forecasting tool
---
📰 Cronycle resource:
Cronycle has made available a number of open-access feeds on its website which I extensively use for the Corona Daily. The four first feeds are:
1.  COVID-19 General (Link) 

2.  COVID-19 x Resilience (Link)  

3.  COVID-19 x HCQ/CQ (Link)  (HydroxyChloroquine and Chloroquine)

4. Gig Economy x COVID-19 (Link) 
And I have added a new feed below
5. Supply Chain x COVID-19 (Link)
I will write more in the future on how you can leverage Cronycle for keeping up to date in between two editions of this newsletter. (Link)
NEW❗️Here is a blog post from Valerie Pegon at Cronycle: "Grow knowledge about Covid-19, not anxiety!" (Link)
---
🏛  Notable collaborative projects 
Oxford COVID-19 Government Response Tracker (OxCGRT) was launched yesterday. Data is collected from public sources by a team of dozens of Oxford University students and staff from every part of the world. It also looks at stringency of the measures and plots stringency with case curves. A great initiative and resource (Link)

Mike Butcher (Editor at Large Techcrunch and founder of TechforUK), had refocused TechforUK on the fight against COVID19. It is a very effective hands-on team of volunteer. Do reach out to them. He has also teamed up with We are now working closely with the volunteers behind the "Coronavirus Tech Handbook". (They are 'cousins' of ours who originally created the Electiontechhandbook). Volunteer collaboration at its best! (Link)

Tariq Krim has started a COVID19 website tracking data about each government policy response to the pandemic (Link)
---
📈 Exponential growth and epidemics (permanent video)
This is an excellent video explaining "exponential growth" and epidemics. Although we are all familiar with the phrase, its authors rightly says that "yet human intuition has a hard time recognising what it means". This is a ❗️MUST WATCH❗️to understand fully what is upon us but also how early behavioural changes at scale can have a massive impact on the level of exponential growth of COVID19 (Link)