🦠 COVID-19 | Masks or chaos
📊 Daily Data Brief: June 29, 2020, 08:37 GMT (❗️June 27, 2020, 21:30 GMT)
Cumulative case: 10,267,821 (+215,288) cumulative cases 
Active cases:  4,190,722 (+64,408) (this is the number of currently infected patients)
Total Deaths:  504,619  (+4,457)
Serious/Critical Cases: 57,346 (-293)
Recovered:  5,563,057 (+136,994)
Source: Worldometers
1) Seven-day rolling average of new deaths (ECDC data)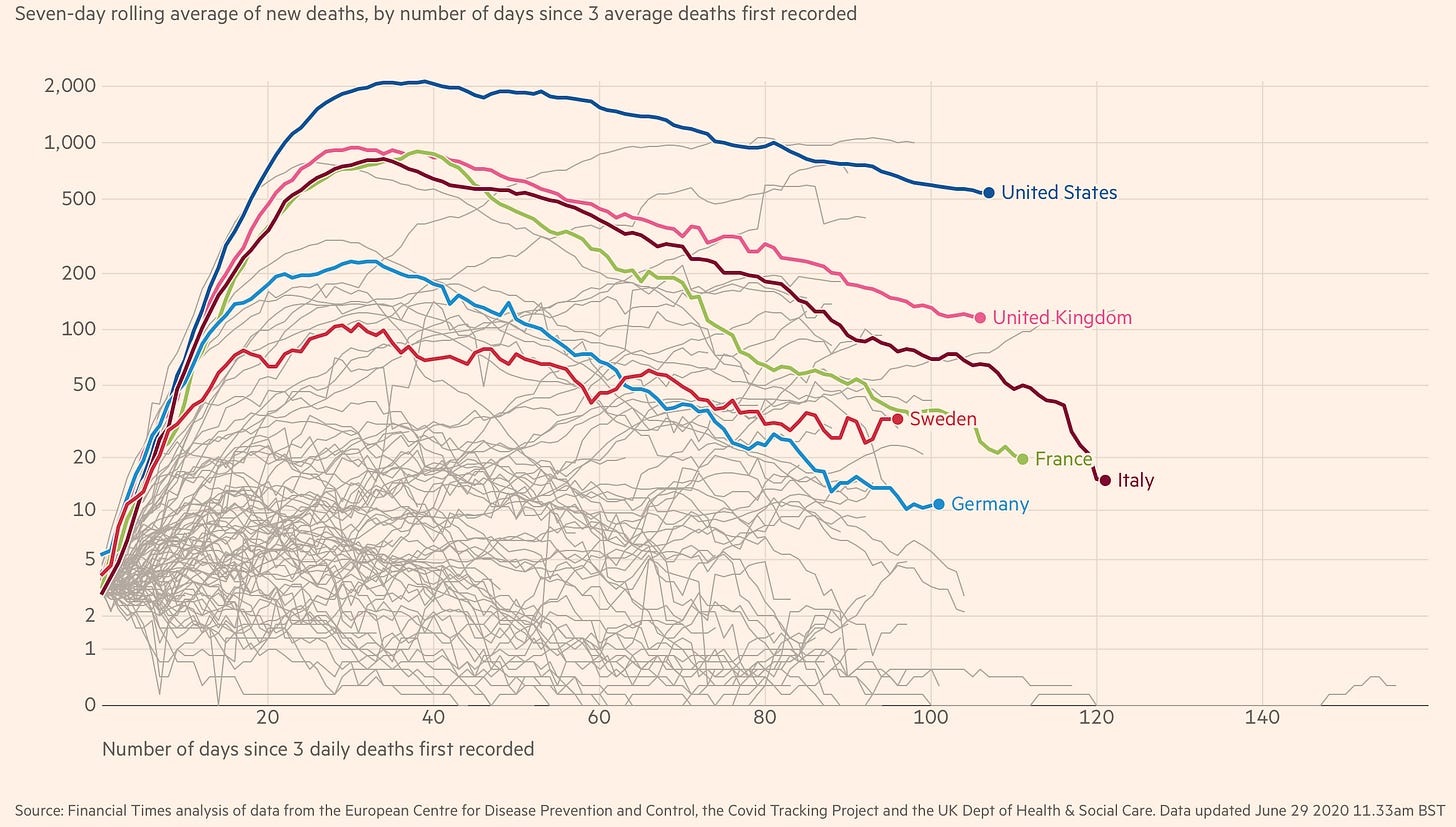 Showing a chart from the FT today highlighting the worrying situation in Brazil, Mexico, India and Russia and Iran (NEW❗️). Also the FT comparative charts now allow up to 6 countries.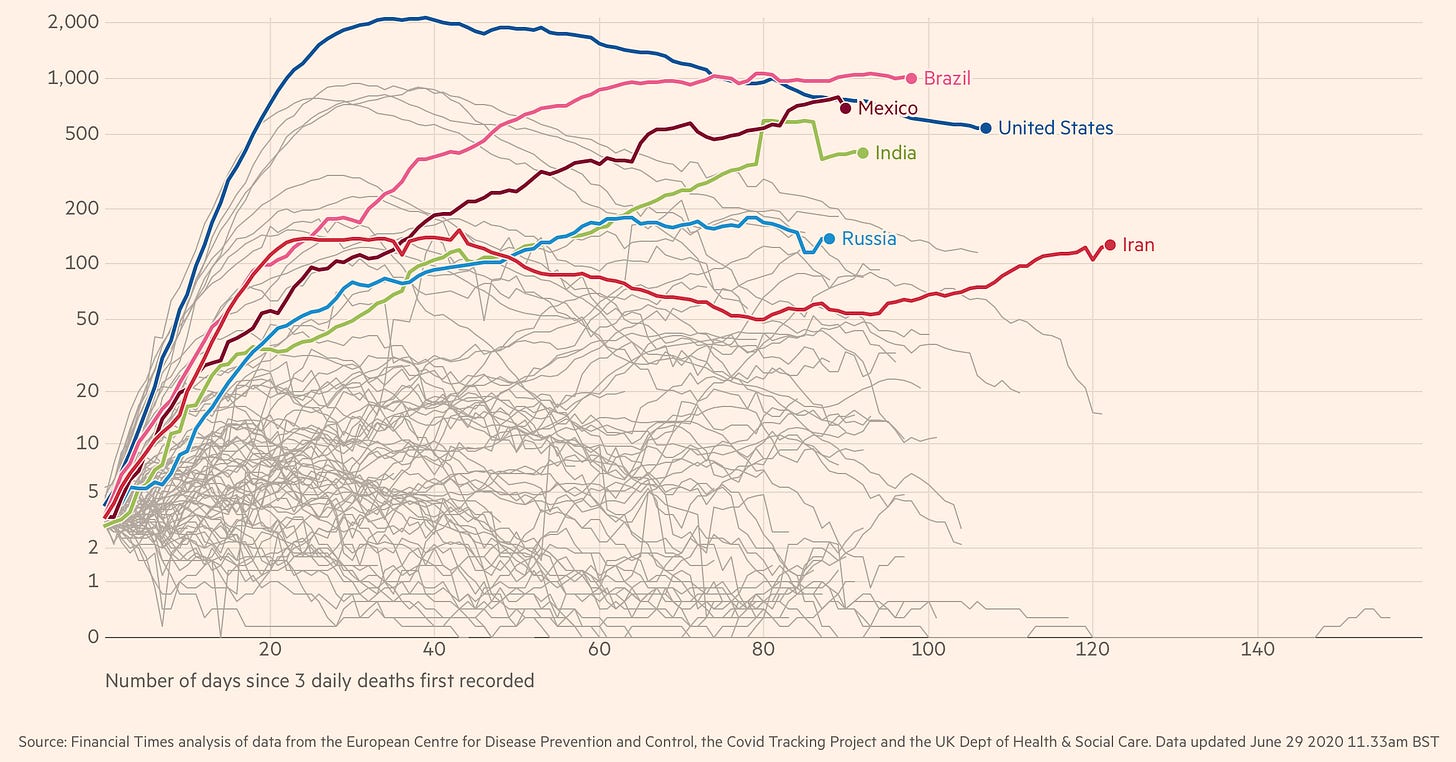 2) Rt estimate per State (US)  (NEW❗️changed to RT.live which offers better visualisation of States above whose Rt>1 ).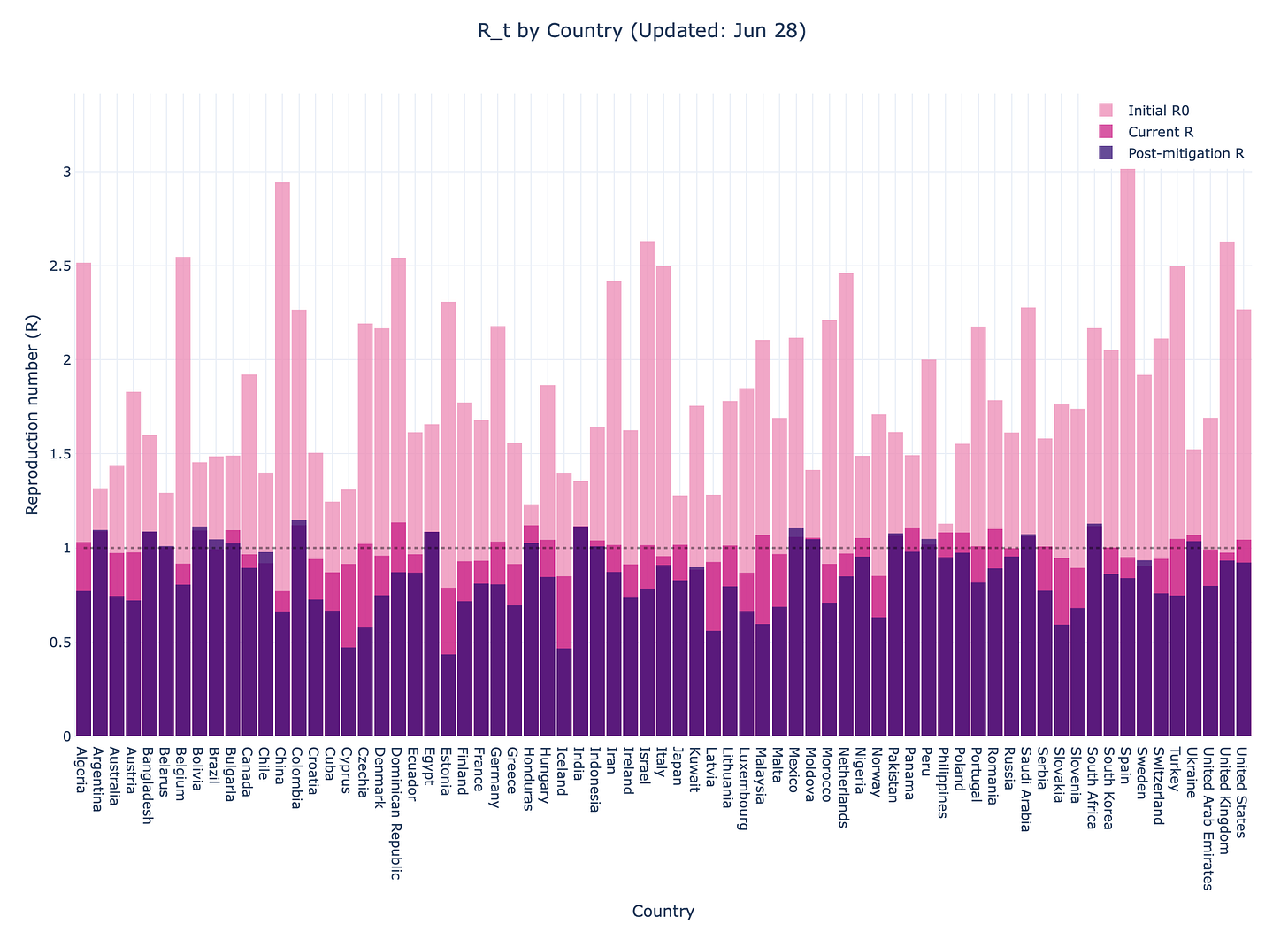 ---
COVID-19 and a number of the societal shifts which have unprepared most of the world and in particular the US to its arrival, have been propagating mostly unbeknownst to the public and to its detriment. The story behind the coming to light of the silent spread of COVID-19 since its first report at the end of January is the article of the day.
The difficulty in accepting and adopting universal masking exposes, if it was needed, the deadly shift of the human psyche. Deadly in front of COVID-19. As the authors write in the Vox/Recode article on Amazon below:
""The American psyche is so selfish that it doesn't matter what goes on in there. It's, 'Just get my package to me.'"
And yet, if we are to contain this pandemic and avoid chaos, we will need both sides of the argument to convince us of wearing a mask: to protect me and to protect you. Nothing more than this simple step symbolises the solidarity and responsibility we need to win against COVID-19 and build a better society. One of the videos of the day shows 95% of people wearing masks in Tokyo. We need to reach the same adoption level fast around the world.
Scott Gottlieb gives us a very sobering account of what lies ahead and the inevitability and urgency of universal masking until expected technological breakthrough come to our rescue. Fauci gives us a no-nonsense account on what to expect from the vaccine assuming we trust big pharma.
A good portrait of Richard Horton, editor at The Lancet, who has not been shy to mix politics and science while leading the British medical journal
A great transcript of an interview withPaul Romer, the recent Nobel laureate in economics. He sees COVID-19's response thus far as an intellectual failure, and continues to urge at scale individual testing to avoid a 8 trillion dollar economic collapse.
Responsibility and solidarity is what we need to combat SARS-CoV-2. Universal masking should happen immediately (even if mandated). Testing-tracing-isolate capacity needs to ramp up in parallel at a cost likely to be a fraction of the cost resulting from a failure to do so. Whilst there is a consensus that therapeutics are on the way, there is no certainty.
---
🦠 Article of the day: Matt Apuzzo, Selam Gebrekidan and David D. Kirkpatrick write "How the world missed COVID-19's silent spread" in the New York Times. (Link)
This is a fascinating article on how the scientific community and the public health agencies mis-evaluated the risk of asymptomatic and pre-symptomatic transmission. As the debate was raging, lives were being lost. Ascertaining or not these modes of transmission had significantly consequences, which public health experts and policy makers appear to have been reluctant to face for too long.
Dr. Rothe's (infectious disease specialist at Munich University Hospital) observation of a potential transmission from an individual without symptoms was made following the diagnosis of the first German patient on January 27. Dr Rothe correspondence "Transmission of 2019-nCoV Infection from an Asymptomatic Contact in Germany" was first put online by the New England Journal of Medicine around the end of January.
It was met with skepticism from 'experts' which endured for a number of weeks, as they were unwilling to muster the consequences of such findings:
"But if the experts were wrong, if the virus could spread from seemingly healthy carriers or people who had not yet developed symptoms, the ramifications were potentially catastrophic."
Skeptics had another fear. Confirming the prevalence of asymptomatic or pre-symptomatic transmission of SARS-CoV-2 might stop efforts to contact-trace:
"But public health officials saw danger in promoting the risk of silent spreaders. If quarantining sick people and tracing their contacts could not reliably contain the disease, governments might abandon those efforts altogether."
Equally, it might have sparked a rush by the public to buy masks when there was already not enough to protect primary care workers. It even prompted the U.S. Surgeon General to categorically dismiss masks on February 29:
Whilst it is easier to fault and think of what would have been if Dr. Rothe had been heard, the article is simply a stronger case for better information dissemination and discussion at a time of radical uncertainty and when an incredible amount of knowledge is created in such a short period of time.
It is also a reminder that science and public health are both human endeavours, and subject to errors. Zeynep Tufekci, who has been at the forefront of universal masking, while showing sympathy, believe that policy decision-making was flawed at the end of a recent ad critical Twitter thread dealing with asymptomatic transmission:
---
🛑 Thread of the day: Scott Gottlieb (former Food and Drug Administration director) writes "A hard moment" thread (Twitter thread)
This is a very sensible and sobering thread from Gottlieb. It has it all: what to expect in the next few months and what should be done to weather COVID-19 until technology comes and helps. For him it is not only about the vaccine but also about recombinant antibodies:
Until then one policy: universal masking
---
🇺🇸 Tweet of the day: "Difficult weeks ahead"
😷 Video of the day 1: "Masking in Japan" (Link)
Hironori Funabiki (Mitosis Researcher at Rockefeller University) tweeted that "mask rate in Tokyo is ~95% from this short video with n= ~50." by looking at that video.
Most "western" democracies are nowhere near this level of adoption. Some of the videos surfacing in the US from individuals violently protesting having to wear a mask are somewhat disturbing (here is one from Dallas, Texas, a state in which the epidemic is raging).
---
😷 Video of the day 2: "Covid-19 vaccine may not get US to herd immunity" according to Fauci, Director of the National Institute of Allergy and Infectious Diseases (Link)
A no-nonsense talk from Fauci on the vaccine and why the first approved vaccines might not get us to herd immunity:
"The best we've ever done is measles, which is 97 to 98 percent effective. That would be wonderful if we get there. I don't think we will. I would settle for [a] 70, 75% effective vaccine."
Also telling that Fauci says that we should take pharmaceuticals company on their word when it comes to the number of doses they claim will be available…
---
🧪 "US needs large-scale Covid testing urgently: Nobel winning economist Paul Romer" in the EconReporter. An interview of Paul Romer, co-recipient of the 2018 Nobel Prize in Economics Science.
There is a quote in the article which should make you want to read it and listen to Paul Romer going forward:
""Suppose it costs USD 20 to test each person in the US, to test 330 million people, that costs about USD 7 billion." In comparison, the pandemic might cost the US economy about USD 8 trillion if it continues the current path."
A bit like Horton (Editor of the Lancet below), Paul Romer assesses the failures which have led to the predicament in which the US and other countries find themselves with COVID-19. Romer is particularly not kind with public health officials whilst also acknowledging a political leadership failure.
However he does not satisfy himself with being only a critique. He has also published "Roadmap to Responsibly Reopen America" detailing his plan to mass test Americans to help contain the pandemic.
He also takes a swipe at the Federal Reserve and mainstream economists:
"Romer commented in reply, adding that he thinks economists should pay more attention to topics like inequality, values, and morals."
These topics have surfaced prominently during this pandemic and particularly in the US. Romer suggest that:
"Economists have paid far too little attention to the questions about values, like trust or commitment to integrity; like how much value we should put on the acceptance of diversity, or the feeling of true inclusion."
A great transcript of Paul Romer's recent interview covering the narrow failing of the response thus far, as well as the deeper and longer failings which have come to shape a society wholly unprepared for a pandemic. A very worthwhile read. (Link)
❗️Shirin Ghaffary and Jason Del Rey write "The real cost of Amazon" in Vox. (Link)
Whilst the article gives a very critical account of Amazon through Rosie one of its employees, it also outlines how Amazon has been better than others in putting in place health safety measures.
The article then rightly shifts its story on the deeper and underlying problems which ultimately hurt the US ability to deal with the pandemic:
"But workers told Recode that other, deeper issues that existed before the pandemic have only gotten worse — namely, that how Amazon responded to workers' pandemic complaints exemplifies how workers have limited power or voice in how their employer treats them."
As the authors rightly continue:
"In light of the pandemic's life-or-death consequences, assessing the future of work and Amazon's role in it is more urgent than ever."
At a time when Facebook is facing similar backlash from its advertisers including Unilever deciding to stop advertising on a platform it deems toxic until the end of the year, it will be interesting to see how Amazon withstand the challenges the criticism laid out at its warehouse doors by this article.
Although, major tech companies (and their stock price) appeared to benefit disproportionally from the pandemic and its consequential digitalisation of everything few had seen the potential backlash that would come to engulf Facebook and possibly now Amazon.
Amazon reputation is starting to slip:
"The share of people who said they have a positive impression of Amazon dropped from 74 percent in January before the pandemic hit the US to 58 percent in May in two similar, separate polls of more than 1,000 people conducted by Survey Monkey with Fortune and Recode, respectively."
It is unclear whether this slide is from the disruption to its delivery times and product availability, or if it stems from Bezos' envy or bad press around the treatment of its employees which repeatedly and increasingly surface.
One employee has little hope that their predicament will trigger sustained sympathy amongst the growing numbers of satisfied customers and ultimately voters:
""The American psyche is so selfish that it doesn't matter what goes on in there," said one longtime Amazon warehouse worker in Lexington, Kentucky, who's been internally vocal about what he feels is a lack of sanitation at his facility. "It's, 'Just get my package to me. Just get my package to me.' The company is feeding off of that because on the walls and inside the facility it specifically states, 'We are customer-obsessed.'"
A bit like the silent spread of COVID-19, the silent reshaping of the future of work was taking place in the Amazon warehouses. And maybe like COVID-19, it will continue to spread in a society incapable of mustering the solidarity needed to counter both the virus and deteriorating conditions for a growing part of the population. Or hopefully for both, it will be a wake up call which helps us build a society which through solidarity and trust is become more cohesive and resilient.
A fantastic though lengthy read.
📃 Sam Knight writes "The Lancet Editor's Wild Ride Through the Coronavirus Pandemic" in The New Yorker. This is an interview article of Richard Horton (editor in chief of the Lancet medical journal). As the article rightly points out, Horton has been rather politically engaged whilst being Editor of a Journal who dates back to 1823:
"His Twitter bio reads, "Welcome to a permanent attack on the present." He has described Donald Trump's decision to withdraw funding from the World Health Organization as a crime against humanity. He despairs of Jair Bolsonaro, in Brazil. He has accused Boris Johnson of "misconduct in public office," a criminal offence that can be punished by life imprisonment, for his handling of Britain's outbreak, which has killed an estimated sixty thousand people."
I titled the last edition of the Corona Daily "Learning nothing, politicising everything". Whilst Horton acknowledges that "I don't think I've ever been in a situation where so much knowledge has been produced in such a short space of time.", he also has "chosen to patrol" the lines between science and politics. Some might say he was made for this time, others might deplore him taken such a stance.
It is not that the Lancet has been spared controversies with the retraction of the hydroxychloroquine study during COVID-19 or the presumed link between autism and the MMR vaccine published under his editorship in 1998 (and discredited in 2004 but only retracted in 2010) or a controversial paper about the excess death of the Iraq war.
A fascinating character taking a perilous stance rendered in a great profile by Sam Knight.
---
🎙 Podcast of the day:
"The leading epidemiologist on how science and politics should really work together": Nick Robinson (BBC) in conversation with Neil Ferguson (Imperial College) (Link)
---
📊 A picture is worth a thousand words:  Global (🌎) and local (with relevant flag) visualisation and forecasting tool
💉 (❗️NEW) "Coronavirus Vaccine Tracker" by Jonathan Corum and Carl Zimmerfrom the New York Times.

"The status of all the vaccines that have reached trials in humans, along with a selection of promising vaccines still being tested in cells or animals."

(Link)

🇺🇸 (NEW❗️) "The COVID Racial Data Tracker"

"The COVID Racial Data Tracker is a collaboration between the COVID Tracking Project and the Antiracist Research & Policy Center. Together, we're gathering the most complete race and ethnicity data on COVID-19 in the United States."

(Link)

🇺🇸🌎 This model has led accuracy for several weeks in the US. It also does projection for Europe and Rest of the World. (Link)

🇺🇸  "Is your community ready to reopen?": A map of the US (50 states and 2,100+ counties) looking at reopening risks with metrics around 3 criteria: 1. Is COVID in retreat? 2. Are we testing enough? 3. Are our hospitals ready? (Link)

💊 The "Map of Hope" provides a geographical overview of planned, ongoing and completed clinical trials. It is put together with data from WHO Clinical Trials Search Portal by the Heidelberg Institute for Geoinformation technology. (Link)